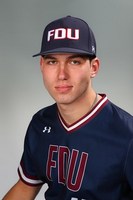 Position: RHP
Date of Birth: 04/22/2002

College Experience: UAlbany
Bats: R
Throws: R
Resides: New Hyde Park, NY
Year: Junior

Biography:


2021 Stats with Albany Dutchmen:

10 Appearances, 1 Start, 14.1 IP, 6 H, 4 ER, 12 BB, 26 K, 2.51 ERA, .115 OBA

2022 Stats at UAlbany:

16 Appearances, 23 IP, 26 H, 12 ER, 15 BB, 22 K, 4.70 ERA, .292 OBA

2021: Appeared in 10 games and totaled 23 innings pitched for the season. Totaled 26 strikeouts and only allowed 21 base hits...Posted an ERA of 5.48 and a .239 BAVG. Provided the Burgundy and Blue with a pair of scoreless frames and struck out five Blue Devils along the way during game against Central Connecticut.


Personal: Parents are Jessica and Michael ... Siblings are Nicole and Carlie ... Interests Outside of Sports include music, guitar, piano, snowboarding, skateboarding, and shoes ... Favorite Sports Memory is playing for Team USA in North Carolina ... Favorite Professional Sports Team is the New York Yankees ... Favorite Movie is Deadpool.