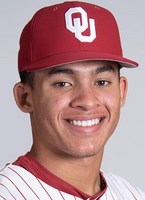 Position: IF

College Experience: University of Oklahoma
Bats: R
Throws: R
Resides: Mustang, OK
Year: RS Senior

Biography:


Prior to OU: Came to OU from Hutchinson Community College … hit .365 with 12 home runs, 11 doubles, six triple, 47 RBIs and 70 runs scored in 2021 … batted .326 with 12 home runs, 13 doubles, six triples, 55 RBIs and 92 runs scored in 90 games over three seasons … hit .296 with two doubles and 16 runs during the COVID-shortened 2020 season.

High School: Attended Mustang High School.

Personal: Major: sociology.