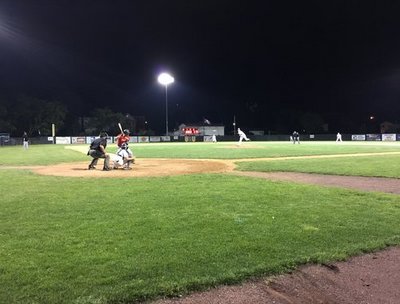 JUNE 8, 2016 -- The Albany Dutchmen (3-2) led early against the Amsterdam Mohawks (3-3), but couldn't hang on as they lost 7-5 Wednesday night.
Albany jumped out to a quick 3-1 lead after the first inning and extended that lead to 5-2 in the fourth, but the Mohawks clawed back scoring three runs in the sixth.
The game-winning run came off the bat of Tristen Carranza (New Mexico State University) who hit a solo homerun in the seventh inning to give Amsterdam a 6-5 lead. The Mohawks didn't look back tacking on an insurance run in the top of the ninth to extend their lead to the eventual final score 7-5.
Although they lost, Dutchmen batters were extremely active. They tallied seven hits tonight, were walked nine times, and had three batters reach base after being hit by pitches.
Malcolm Nachmanoff (Stony Brook University) went 1-for-3 with an RBI double and a walk. Jon Skidmore (Dallas Baptist University) also contributed by going 1-for-3 with a single, one run scored, and two walks.
Gabe Kleiman (University of Pennsylvania) got the start for the Dutchmen and went four innings giving up three hits, two runs, and two walks while striking out four batters. Jackson Bubala (Dartmouth College) was given the loss (0-1).
Tim Herrin (Indiana University), the Mohawks starting pitcher, struggled pitching 3.1 innings allowing five hits, five earned runs and five walks. His rocky performance was saved by great late hitting by Amsterdam as Derek Balbierz (University at Albany) got the victory.
Before the game, the Albany Dutchmen recognized the achievements of over 80 high school student-athletes as part of High School Student-Athlete Recogniztion Night sponsored by the New York State Public High School Athletic Association.
The Dutchmen are back in action tomorrow as they travel to face Saugerties at 6:30 p.m. The Mohawks are at home tomorrow as the face Glens Falls at 6:35 p.m.