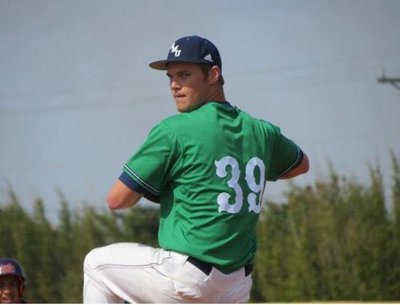 The Albany Dutchmen are pleased to announce the signing of four players from the southeast, who will bring substantial game experience to the 2017 roster. Joining the Albany roster are North Alabama Lions Peyton Sockwell and Brandt Holland, as well as Deaven Phillips and Justin Bureau from Ave Maria University in Florida.
Peyton Sockwell, an infielder from Lawrenceburg, Tennessee, was an everyday starter this season for the Lions, playing in all but two games. Sockwell hit .299 for UNA, a Division II program playing in the Gulf South Conference. He also proved to be tough to retire, drawing 32 walks en route to a team-best .428 on base percentage. The Dutchmen will also be able to utilize Sockwell's speed, as he stole 16 bases this season. Sockwell is a former Gulf South Conference Player of the Week, and was named a two time all-district selection out of Lawrenceburg County High School. His speed and ability to get on base will provide the Dutchmen with a steadying presence near the top of a lineup on any given night.
Brandt Holland joins his UNA teammate in the Capital City, and also played nearly every day for the Lions. Holland played in 46 of the 53 games, and started 38. The catcher drove in 32 runs and scored another 23, and was one of four Lions to hit at least three home runs during a 34-19 season. Holland was also a consistent defender, making just two errors in nearly 150 chances while playing primarily at first base. Holland came to North Alabama from Dyersburg State Community College, where he was an All-Conference selection. Additionally, he was an All-Area selection out of Deshler High School in Alabama.
Deaven Phillips will be a prominent component of the Dutchmen pitching rotation, and comes to Albany from Ave Maria, where former Dutchmen assistant coach Sean Buchanan is on the staff. A native of Dade City, Florida, Phillips split his time between a starting role and the bullpen for the Gyrenes this spring. In 12 appearances, Phillips struck out 26 hitters over 32.2 innings, and held opposing hitters to a .248 batting average. He threw five scoreless innings in his first collegiate win, a triumph over Lawrence Tech on March 6. The versatility of Phillips will be a major asset to head coach Nick Davey and his staff.
Justin Bureau heads to Albany as an accomplished closer at Ave Maria, where he is the school's single-season and all-time saves leader. Over three seasons at AMU, he has saved 19 games, and has struck out 85 hitters in 84.1 total innings, and has led Ave Maria in saves during all three campaigns. The Orange, California resident went 3-0 for the Gyrenes in 2017, recording his third straight season with at least five saves. He struck out 26 hitters to only 11 walks. Bureau will be relied upon at the back end of the Dutchmen bullpen, where his experience in high pressure situations may prove to be valuable.
These four incoming Dutchmen will bring a needed level of experience to the 2017 roster. Each player has performed well in clutch situations, and will be called upon to do just that in Albany this summer.