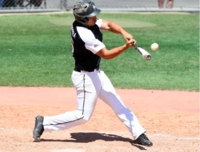 Monday, April 15, 2019
Nick Grande (Stony Brook, '18 Dutch)
The junior has been delivering this season, especially on offense. Grande had a dominant offensive weekend against Binghamton with 6 hits in 14 AB. The infielder helped Stony Brook to a 2-1 series win against the Bearcats and increased his season BA to .395 to become the Seawolves' leader.
Max Cioffi (Ole Miss, '18 Dutch)
Cioffi pitched 1.2 scoreless innings of relief vs Kentucky this weekend for #11 Ole Miss. The sophomore righty struck out 4 bringing his season SO total to 32.
Griffen Herrera (Azusa Pacific, '18 Dutch)
Herrera had a huge offensive series against Concordia to help propel the Cougars to a 4-0 series sweep. The junior tallied 11 hits and 6 RBI against the Eagles including a 3 run HR to bring his season BA to .350.
Nick Estrella (Azusa Pacific, '18 Dutch)
Along with his teammate Herrera, Estrella also had a successful weekend. The junior threw 6 scoreless innings this weekend against Concordia. Estrella picked up his 6th win on the mound this season to give the Cougars the win against the Eagles.
James Rubino (Hudson Valley Community College, '18 Dutch)
Rubino had a 14K performance vs. Fulton Montgomery Community College last week to help the Vikings to an 8-2 win. The sophomore lefty threw 6 innings and gave up only 2 runs on 2 hits.