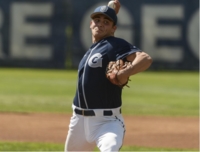 Monday, April 29th, 2019
Tommy Miller (Siena, '17 Dutch)
After breaking the program record for wins last week, Miller hasn't stopped delivering. The senior pitcher picked up his 25th career win with a complete game performance, throwing all 9.0 innings and only allowing 1 run and 3 hits against Iona. The lefty had 7 SO and lowered his season ERA to 3.40.
Ryan McGee (Siena, '19 Dutch)
While Miller has been getting it done on the mound, McGee has been getting it done at the plate. The freshman had 8 hits in 14 AB against Iona this weekend and has 34 hits on the season. McGee also delivered the game winning RBI single in game 3 versus the Gaels to cap a series sweep for the Saints.
Jerry Burke (Georgetown, '17 Dutch)
Burke was effective of the mound this weekend when the Hoyas faced conference for St. John's. The junior righty pitched 7.0 dominant innings, recording a career high 12 SO while only allowing 1 BB. Burke allowed just 2 ER in Georgetown's 4-3 victory over the Red Storm.
Nick Grande (Stony Brook, '18 Dutch)
The junior has been dominant with his offense this season. Over the weekend, Grande had 3 hits, 2 RBI, and 2 HR to help the Seawolves win their series against UMBC, 2-1. The infielder is hitting .375 on the season with 22 RBI and 57 hits.
J.J Shimko (USC Upstate, '16)
Shimko has been nearly unstoppable at the plate this season. The senior outfielder went 8-14 in the Spartan's series sweep of the Longwood Lancers with 5 RBI. Shimko is batting .410 on the season and was named the Big South Player of the Week last week.