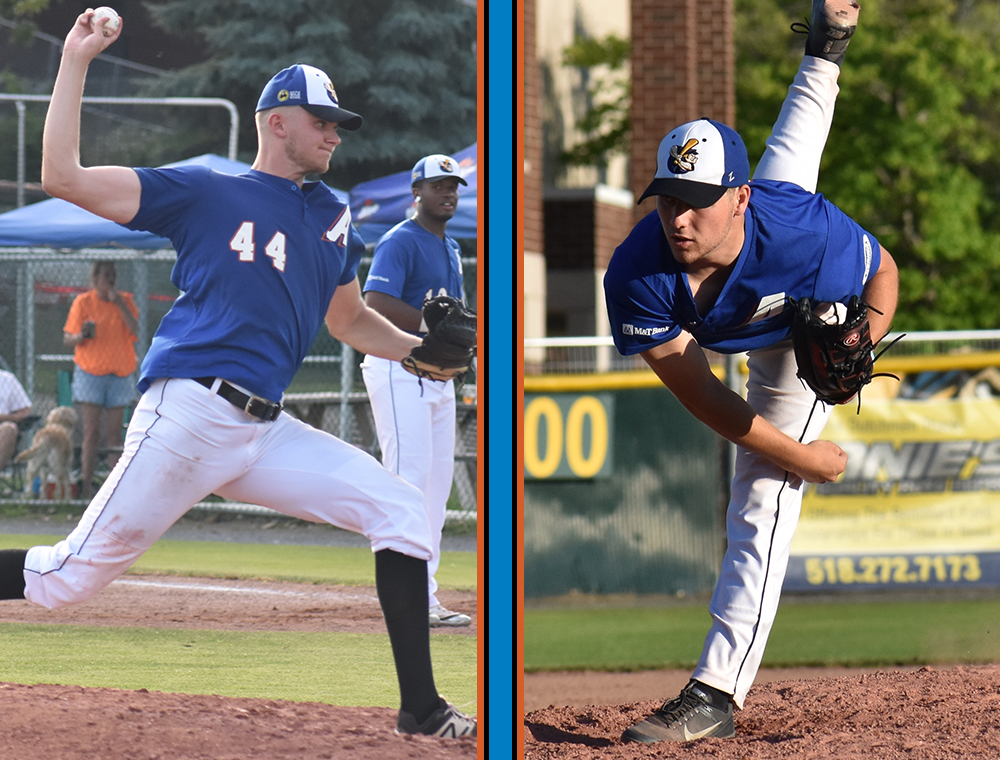 Nick Davey, Nick Grabek, and Ryan Greco had smiles on their faces as they looked back to the last game of the 2018 PGCBL season for the Dutchmen.
The smile, however, was not an indicator of their true feelings.
"It was not a good way to end the year," said Greco, a right-handed pitcher from the College at Brockport.
In the one-game series between Albany and Amsterdam during last year's PGCBL quarterfinals, the Dutchmen nearly completed a seven-run comeback after trailing 7-0 heading into the third inning. However, a passed ball in the ninth inning allowed Amsterdam to walk-off and end Albany's 2018 season.
Despite making the playoffs for six straight seasons, the Dutchmen have yet to reach the PGCBL Championship Series. After a season in which Albany finished with a 26-17 record, there was a good feeling that a trophy could be coming to the Capital Region.
"We had a great team last year," said Grabek, a right-handed pitcher from Fairfield University. "But there was definitely a feeling of unfinished business coming back."
Grabek and Greco are the only two Dutchmen who return to Albany for the 2019 PGCBL. Both pitched in that game in Amsterdam that ultimately ended the Dutchmen's season. With a young roster that contains 24 players that are either high school seniors, freshmen, or redshirt freshmen, the playoff experience that both veteran pitchers have will be invaluable for Albany down the stretch.
"To have those guys be involved in that game, I think it was really important to have them around and show the other guys how we do things," said Davey, who is entering his 10th season as Dutchmen Head Coach.
Both pitchers are not just back with the Dutchmen to make a deep playoff run. Grabek and Greco come to Albany with something to prove to themselves and their schools. While Grabek had an impressive season with Fairfield, leading the team in saves with nine, the fire to improve even further drives him.
"It feels like I have to prove more this year to show that I've grown since the last time I've played," said Grabek.
The 6'6" Greco returns to Albany with more than just unfinished business to deal with. The 2018 PGCBL All-Star had a down year at the College at Brockport, recording a 12.71 ERA in only 11.2 innings of work. Greco didn't look like the pitcher who was second on the Dutchmen in strikeouts with 31.
"Greco was really good for us last summer," said Davey. "It's a confidence thing with him. When he's going good, he's as good as a swing-and-miss guy that we'll have on our staff."
While improving as baseball players may be back on the minds of Grabek and Greco, the end goal remains – to lead Albany to the PGCBL Championship for the first time in franchise history. After a passed ball created unfinished business, a new feeling was birthed – confidence.
"We're gonna win it," said Greco. "Yes, sir."