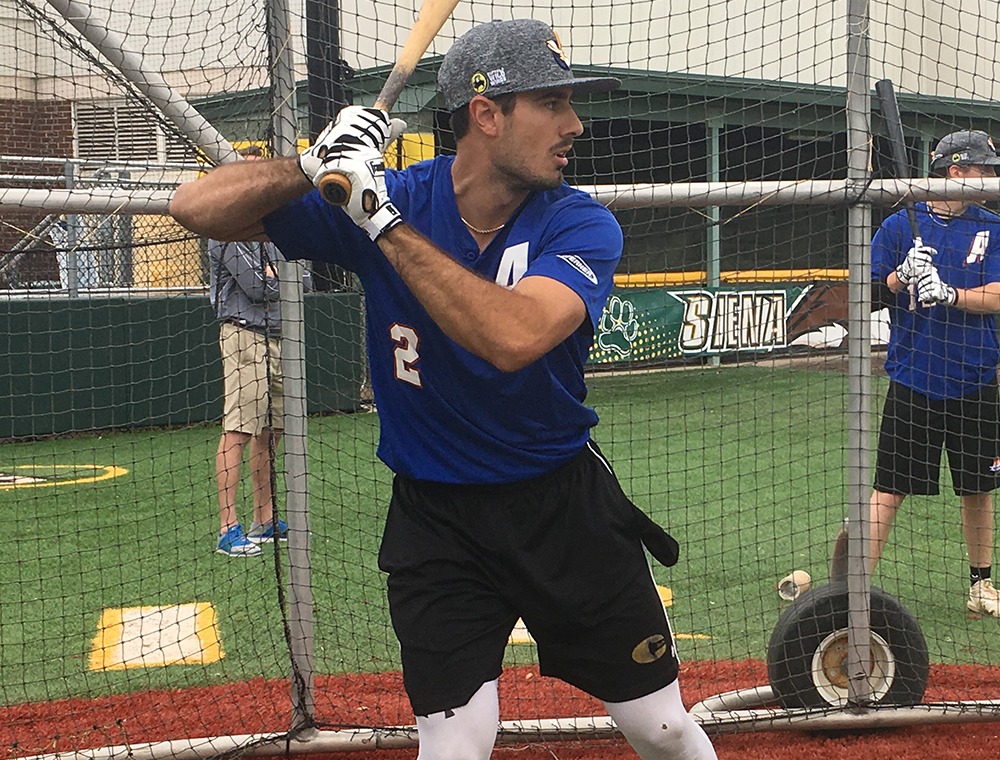 ONEONTA, N.Y- The Dutchmen loaded the bases in the ninth but couldn't bring home the tying run as the Albany Dutchmen (1-2) lost to the Oneonta Outlaws (1-3) by a score of 6-5.
Albany opened up the scoring in the first inning when Ryan McGee (Siena) and Ben Metzinger (Louisville) walked and a wild pitch scored them both. The Outlaws responded in the bottom half when an error and sacrifice fly tied the game at 2-2.
Oneonta added a run in the third with a Kevin Gsell (Binghamton) RBI single to take the lead. The Dutchmen responded in the top of the fifth with a Tommy Pellis (Seton Hill) three-run home run to go up 5-3.
The Outlaws replaced starter JR Langworthy (Louisville) in the sixth inning and put in Josh Hudgins (Georgia College) who finished the game without allowing a Dutchmen hit or run over four innings.
"He kept us off balance," said Dutchmen Head Coach Nick Davey. "We didn't put enough pressure on them. Three hits isn't gonna cut it. We have to be more aggressive offensively"
With the Outlaws down one in the seventh Gsell and Noah Cabrera (Towson) hit RBI doubles to put the Outlaws up 6-5.
In the ninth two errors and walk loaded the bases for the Dutchmen with only one out. However, pinch-hitter Chris Seng (Louisville) struck out and Pellis grounded out to third to end the game.
"We had the right man in the right spot," said Davey.
The Dutchmen bullpen struggled for the first time this season, giving up three runs over six innings of relief after only allowing two runs in Albany's first two games combined. Oneonta scored runs during the second inning of the relief outings of Brandon Roberts (St. John Fisher) and Jacob Steinberg (Ole Miss) to take the lead.
"We let off the gas pedal a little bit," said Davey. "I did like what I saw out of those guys. It's just a matter of getting them more work."
Albany's next game is against the Adirondack Trail Blazers on Wednesday, June 4th, at Connors Park at Siena College. Game time is set for 5:05 p.m. For tickets and more information, visit dutchmenbaseball.com.