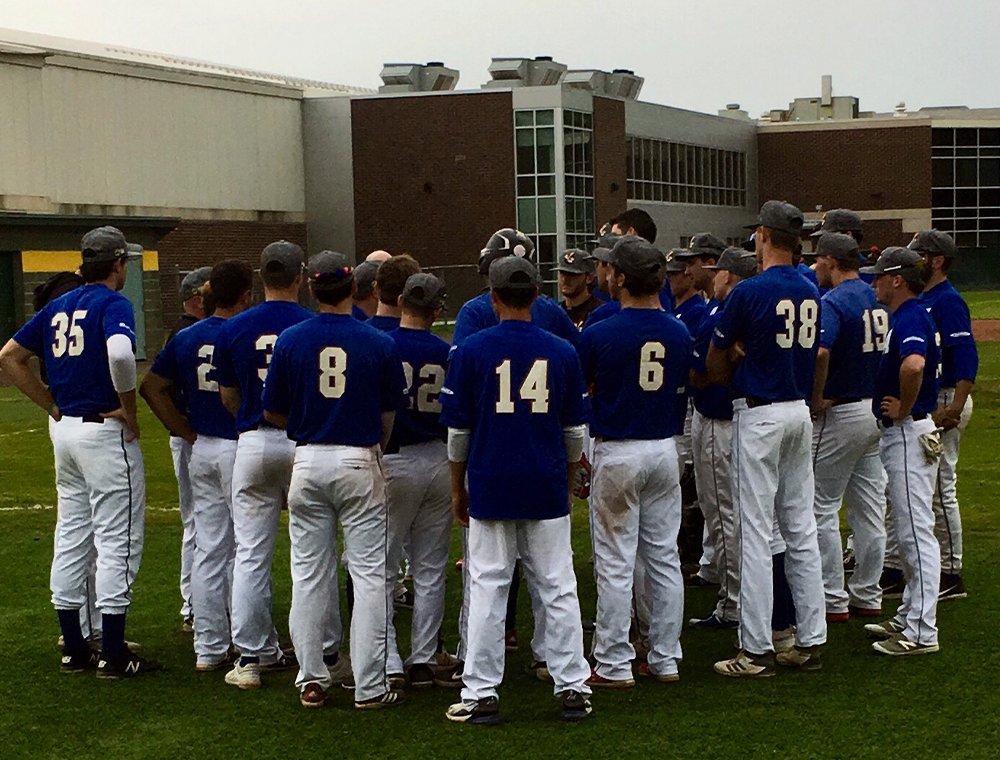 LOUDONVILLE, N.Y. – The Albany Dutchmen (1-2) came alive offensively against the Adirondack Trail Blazers (1-2) as the offense rattled off 12 hits to take a 16-3 lead after six-and-a-half innings of play. The game was officially called due to rain.
"What I saw today is hopefully what can translate to tomorrow and the rest of the season," said Dutchmen Head Coach Nick Davey.
Albany got started quickly against the Trail Blazers, scoring seven runs in the first two innings. Mike Handal (Fairfield) led the offensive charge for the Dutchmen with a single, triple, and three RBIs. The Dutchmen right-fielder was one of three Dutchmen players with multiple RBIs against Adirondack.
"I'm just trying to relax at the plate," said Handal. "I'm feeling confident and the results are showing.
The Dutchmen offense didn't slow down after the first two innings. Albany scored four runs in the fourth and five runs in the sixth to record 16 runs over the Trail Blazers. The 16 runs are the most scored by a team in a single game in the 2019 PGCBL season.
"Our batters got good pitches to handle," said Davey. "They did a good job of not trying to do too much at the plate."
The Dutchmen pitching held their ground and worked around eight hits and two walks to limit the Trail Blazers offense to only three runs. Ian Murphy (St. John's) got the call to start against Adirondack and struck out seven batters, tying a Dutchmen season high. Aaron Dona (St. Thomas Aquinas) came in relief in the fifth inning and added four more strikeouts.
"What we saw today from Murphy was pretty good," said Davey. "I think he'll be one of the better arms that we've had around here.
The Dutchmen offense didn't just produce at the plate. Albany continued to cause havoc on the base paths with stolen bases and aggressive reads on balls in the dirt. The Dutchmen utilized four stolen bases and four wild pitches to make Adirondack pitchers uncomfortable on the mound. Heading into Wednesday's game, the Dutchmen were tied for second in the PGCBL in stolen bases with 13.
"I want to stay aggressive and keep putting pressure on teams with our baserunning," said Davey.
The 12 hits that the Dutchmen offense totaled is the most so far this season for Albany. After a couple of inconsistent offensive showings, a strong performance against the Trail Blazers could be the catalyst for a Dutchmen offense loaded with potential.
"We just got to keep our confidence up and trust the guy behind us," said Handal.
Albany is back in action on Thursday, June 6th, as the Dutchmen travel to play the Amsterdam Mohawks at Shuttleworth Park at 6:45 pm. The next Dutchmen home game is on Saturday, June 8th, against the Saugerties Stallions at 5:05 pm. For tickets and more information, visit dutchmenbaseball.com