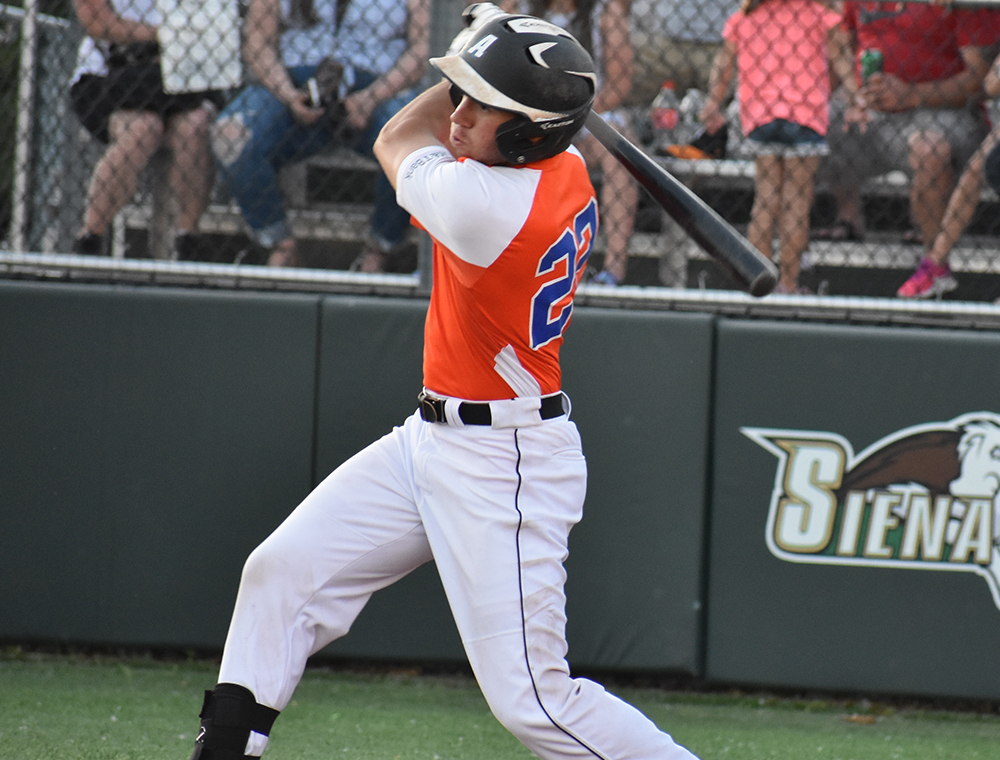 LOUDONVILLE, NY- The Albany Dutchmen (3-5) scored six in the fifth but failed to capitalize in the late innings as they drop their third game to the Glens Falls Dragons (3-4) by a score of 9-6 and fifth game overall.
The Dutchmen trailed 6-0 after the top of the 5th to the Dragons after Albany pitchers allowed seven walks. Aaron Dona (St. Thomas Aquinas) allowed three runs on four walks through three innings and Ryan Greco (Brockport) pitched the top of the 5th and allowed three walks which contributed to four runs.
But the Dutchmen came storming back in the bottom of the 5th. Will Duff (Vanderbilt) would drive home two runs with a single, Nick Debrino hit an RBI single and a double steal attempt brought home Duff, though Debrino was stranded. In total it was a six-run inning for Albany which tied up the score.
"I love the fact we came back down 6-0 and made it a game," said Dutchmen Head Coach Nick Davey.
The Dutchmen gave the game right back though as Jacob Steinberg (Ole Miss) came on and gave up three runs off two doubles from Carson Dunkel (Siena) and Brad Hipsley (Stony Brook). Albany would leave four runners on base in the last four innings.
"We have to find a way to beat them," said Davey "It is just a matter of knowing how to respond which we will learn in this grind of a season"
Parker Noland (Vanderbilt) made his debut today for the Dutchmen and led off the six-run 5th inning with a single. The recent high school graduate from Tennessee was picked in the 31st round of the 2019 MLB Draft by the Miami Marlins.
"He has an advanced approach at the plate," said Davey. "He doesn't try to do too much."
Chris Seng (Louisville) led the offensive charge at the plate, going 4-4 with a double and an RBI. The speedy outfielder also added two stolen bases, raising his team lead to six on the season.
Albany's next game is against the Utica Blue Sox on Monday, June 10th at Murnane Field in Utica. Game time is set for 6:35 p.m. Albany's next home game is a doubleheader against the Oneonta Outlaws on June 15th. The first game starts at 3:00 p.m. For tickets and more information, visit dutchmenbaseball.com.