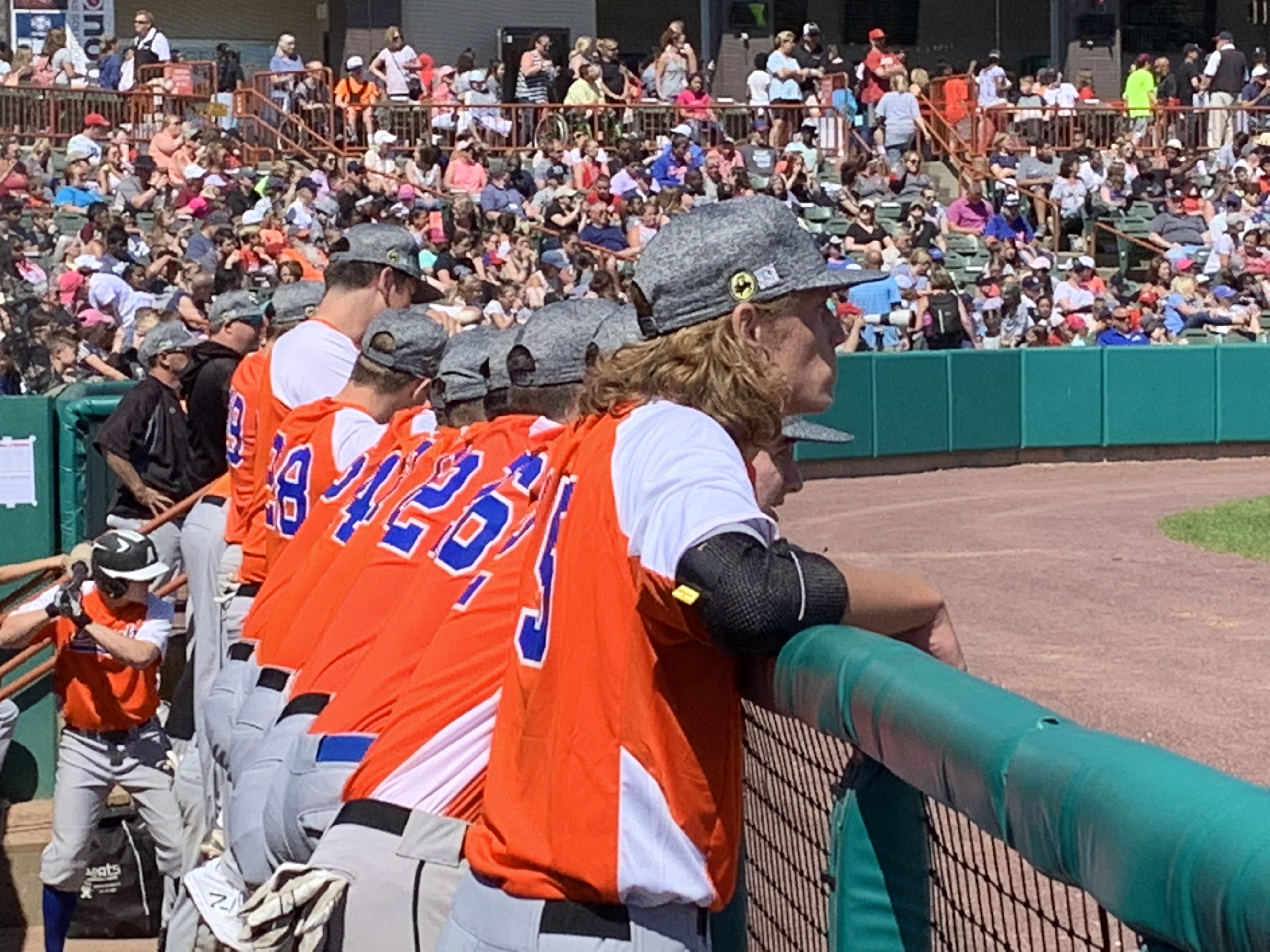 Dutchmen players look on the from the dugout during their 10-4 win over the Houston Astros' MiLB affiliate Tri-City ValleyCats.

6/13/19
TROY, N.Y. -- The Albany Dutchmen scored five runs in the second inning and defeated the Tri-City ValleyCats, the short-season Class A Affiliate of the Houston Astros, by a score of 10-4 in an exhibition game at Joe Bruno Stadium.
The Dutchmen won their second game in five total meetings between the two teams and have won two of the past three matchups. The last Dutchmen win came in 2017 when Albany won 3-2. It was also education day at the ballpark, as more than 4000 kids filled the seats to watch Albany's victory.
Albany batted around in the second inning due to ValleyCats' pitchers Jayson Schroder and Hansel Paulino lack of control. The first two Tri-City arms walked two batters and hit four during the second inning. A Ben Metzinger (Louisville) double with the bases loaded broke the game open and accounted for two of the five runs in the inning. The ValleyCats walked eight batters and hit five Dutchmen hitters.
"We weren't chasing that stuff," said Dutchmen Head Coach Nick Davey. "Good teams take advantage of those opportunities and we were disciplined today."
Albany's pitchers also had a strong outing, allowing only six hits on the day. Though three were home runs, the Dutchmen staff buckled down after the fifth inning and, past that point, allowed no runs on one hit. Ryan Greco (Brockport), coming off walking four in his last outing, walked two today but battled with the bases loaded and got a strikeout and fielder's choice to end the 8th.
"The way he competed was really important," said Coach Davey "He could have accepted it but he didn't."
Today's game served as a unique opportunity for Albany who got to play an affiliated professional team. After the Dutchmen started 3-5 in the PGCBL, the win against the ValleyCats serves as a potential catalyst for the rest of the season.
"I think today helps the team's confidence and the belief that their talent can play with anybody," said Davey.
Albany returns to league play with their next game at the Amsterdam Mohawks on Thursday, June 13th at 6:45p.m. at Shuttleworth Park. Albany's next home game is a doubleheader against the Oneonta Outlaws on Saturday, June 15th. The first game starts at 3:00p.m. For tickets and more information, visit dutchmenbaseball.com.