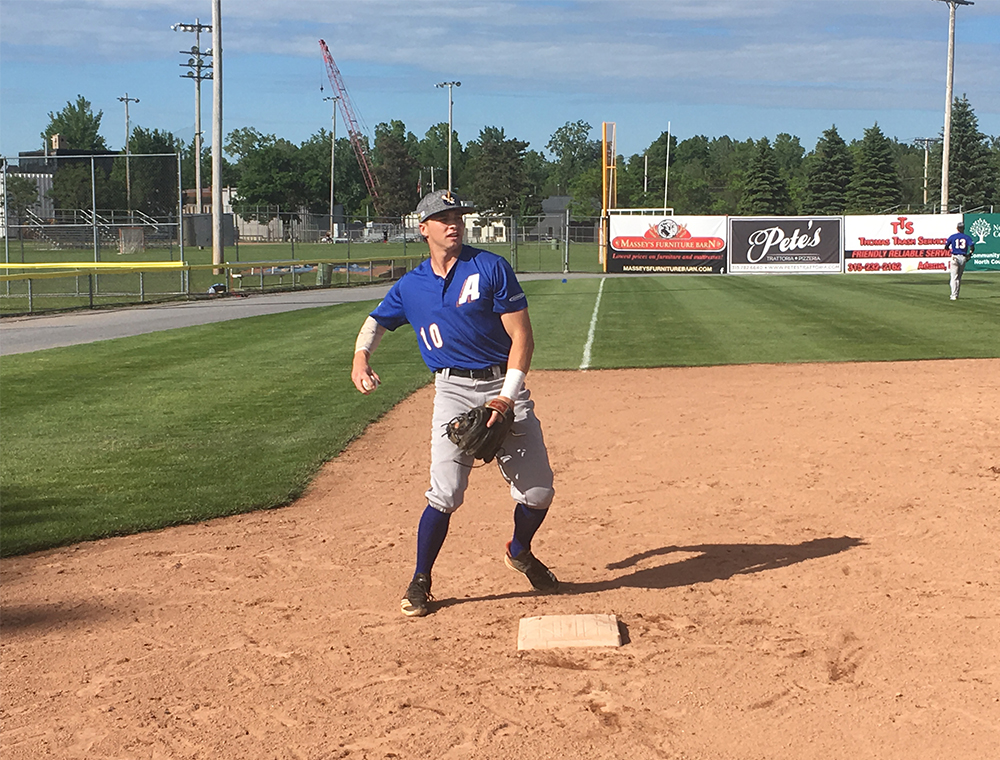 WATERTOWN, N.Y. - The Albany Dutchmen (7-5) scored eight runs in the seventh inning and dominated the Watertown Rapids (7-5) 14-4.
The Dutchmen scored 14 runs off six errors and 14 walks from the Rapids. Albany scored at least one run from the third to the seventh inning.
After a scoreless first two innings, the Dutchmen started the scoring in the third after a solo blast from Josh Hall (Ole Miss). He had two hits and two RBIs on the night in his third game with Albany. The outfielder had one homer in his 35 at bats with the Ole Miss Rebels in his freshmen season.
"I know I have it in me," said Hall "If I can get a hold of one I can put it out."
In the fourth both teams scored twice. After two walks and a single the Dutchmen had the bases loaded. Aaron Roose (Azuza Pacific) and Will Duff (Vanderbilt) hit ground balls to short and third that brought runs across. Watertown responded with an RBI single from Danny Di Marzo (Post University) and an RBI groundout from Nate Chase (Grand Valley State).
Albany tried to be aggressive on the base paths in the first five innings. The Dutchmen's running game was slight nullified by Matt Aufiero's (Sacred Heart) snap pickoffs to first, which caught two runners too far off first base. Coach Nick Davey had discussions with the umpire crew about Aufiero balking.
"I believe he was balking and it shut us down," said Dutchmen Head Coach Nick Davey. "Once we got him out of the game we could take advantage."
Aufiero went only five innings and the Dutchmen stole four bases in the sixth and seventh inning. In the seventh the Rapids hit a batter, walked two and committed two errors. The Dutchmen sent 12 batters to the plate and score eight runs off four hits.
Parker Noland (Vanderbilt) went 1-2 with two RBIs and Justin Bench (Ole Miss) went 1-2 with an RBI single in his first hit as a Dutchmen.
"I think [Hall and Bench] play the game fast," said Davey. "Both made an impact at Ole Miss and I expect them to make an impact for us"
After giving up three runs in the first four innings Albany allowed only one in the final five. The winning pitcher Aaron Dona (St. Thomas Aquinas) and Jack Delaney (St. John Fisher) both threw an inning allowing zero runs.
"The key was coming in and throwing strikes," said Davey. "They were getting ahead of hitters and were very effective."
Albany's next game is against the Glens Falls Dragons tomorrow Tuesday, June 18th. First pitch is at 7:05 p.m. The Dutchmen's next home game is Thursday June 20th against the Glens Falls Dragons with first pitch set for 5:05 p.m. For tickets and more information, visit dutchmenbaseball.com.