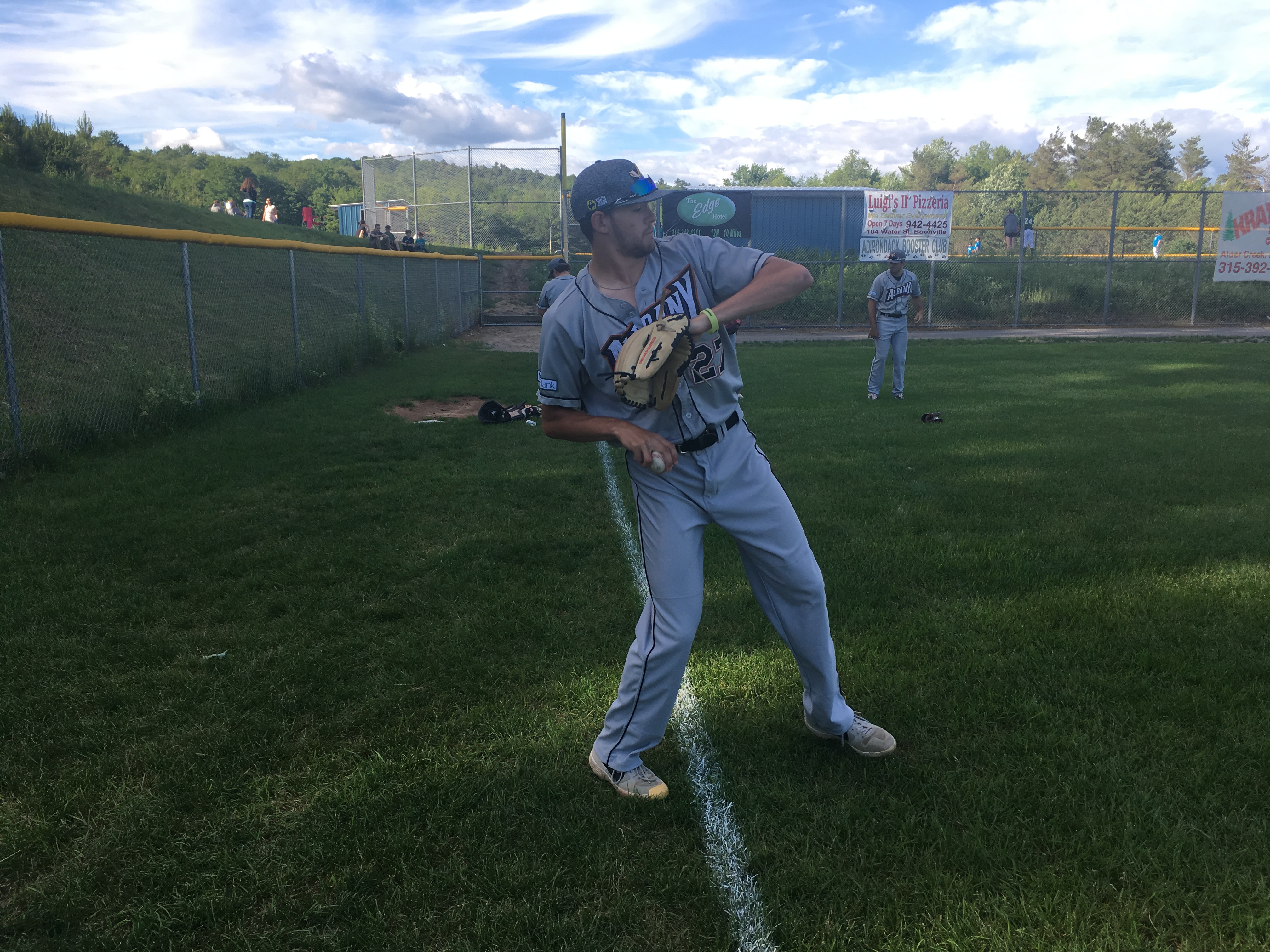 ADIRONDACK, N.Y. – The Albany Dutchmen (9-5) won their sixth straight game in the PGCBL with a victory against the Adirondack Trail Blazers (3-10) 10-2 behind strong pitching performances.
The Dutchmen struck right away in the first inning after Tommy Pellis (Seton Hill) launched a ball over the right centerfield wall for a two-run home run. Albany tacked on two more in the top of the fourth after Josh Hall (Ole Miss) hit a two-run single to put the Dutchmen up 4-1.
Ian Murphy (St. John's) benefited from the early run support and went 4.1 innings, giving up one unearned run and striking out six. Cash Crane (Trinity) came in relief and retired 11 of the next 13 batters. Crane went 3.2 innings, allowing no runs and only one hit.
"Cash was phenomenal tonight," said Dutchmen Head Coach Nick Davey. "When he is on the plate, he as tough as anyone we have to hit."
Crane blew a save attempt in the ninth inning at Amsterdam last Thursday night. Tonight, he dominated with five strikeouts and earned the win. Crane is now fourth on the team with 13 total strikeouts.
"I kept the ball down and let them get themselves out," said Crane. "I just tried to not do too much."
The Dutchmen offense continued to steadily support the strong performance from the Albany pitching staff. Luke Gold (Boston College) added an RBI-double in the seventh inning for the Dutchmen's fifth run. Five more runs came home to score in the ninth inning off a Parker Noland (Vanderbilt) single, a bases-loaded walk to Aaron Roose (Azusa Pacific), and a two-run single by Mike Handal (Fairfield).
Gold went 2-4 and had his first RBI as a Dutchmen. The high school senior recently won the Class A State Championship in New York with Ballston Spa Senior High School.
"He's a great addition to this team," said Davey. "He is solid defensively and a good heads up ball player."
With the win, the Dutchmen tied a franchise record with a six-game winning streak. The Dutchmen's last six-game winning streak was in 2013. During its winning streak this season, Albany is outscoring its opponents 48-19.
The Dutchmen's next game is a doubleheader tomorrow Saturday, June 22nd against the Mohawk Valley DiamondDawgs with the first game set for 3:00 p.m. For tickets and more information, visit dutchmenbaseball.com.