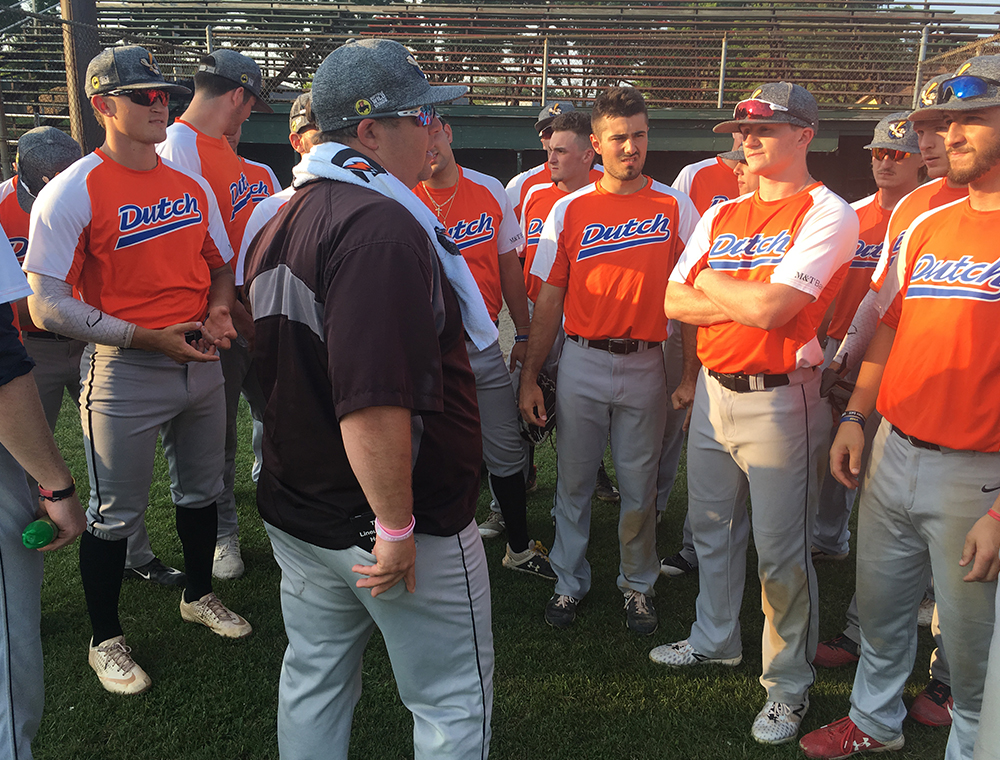 GLENS FALLS, N.Y. – The Albany Dutchmen (15-10) defeated the Glens Falls Dragons (7-17) 1-0 after a Luke Franzoni (Xavier) RBI double in the top of the ninth inning. Albany has won four games in a row.
Ian Murphy (St. John's) started the game for Albany. After going only 1.1 innings vs Saugerties on June 27th, Murphy threw five innings, allowing only one hit and striking out nine batters. He was named PGCBL Pitcher of the Night.
"He set the tone," said Dutchmen Head Coach Nick Davey. 'He didn't deserve the no-decision because he pitched great."
Glens Falls' Danny St. Claire (Albany) also pitched well, going four innings and allowing two hits and two strikeouts. St. Claire entered the game with only 6.1 innings total and a 12.79 ERA. The Dutchmen left five runners in scoring position.
"In those situations, we need fly balls and grounders," said Davey. "We struggled and got too many pop-outs and strikeouts."
Alex Henderson (Fordham) entered the game into the fifth and also went four innings, allowing only a bunt single against the 13 batters he faced.
Logan Savell (Ole Miss) entered in relief for Albany in the sixth and stranded two runners on base with three flyouts. Cash Crane (Trinity) threw the next two innings but struggled in the eighth after two singles and a walk loaded the bases. Crane got a flyout, strikeout and finally a lineout from Devan Kruzinski (Siena) to Luke Gold (Boston College) at third to end the inning.
"Our bullpen has been great," said Davey. They are doing their job and our pitchers placed us where we needed to be"
In the top of the ninth with the score still 0-0, Aaron Roose (Azuza Pacific) walked and stole second base. As Justin Bench singled to left field, Roose was thrown out by Evan St. Claire (Siena) at home. Bench moved over to second on the throw and with two outs, Luke Franzoni came up to bat 0-2 on the day.
"He wanted to hit in that situation," said Davey. "I thought about taking him out but trusted my gut and he came through."
Franzoni blasted a ball to right-center that scored Bench on his team-leading seventh double. It was the only run scored in the ballgame.
"I was just trying to put the ball in play," said Franzoni, "I think the swing has been good just looked to improve my approach at the plate."
The Dutchmen's next game is on Thursday, July 4th against the Saugerties Stallions. First pitch is set for 6:05 p.m. Albany's next home game is Saturday, July 6th versus the Oneonta Outlaws. Game time is at 5:05 p.m. For tickets and more information, visit dutchmenbaseball.com.