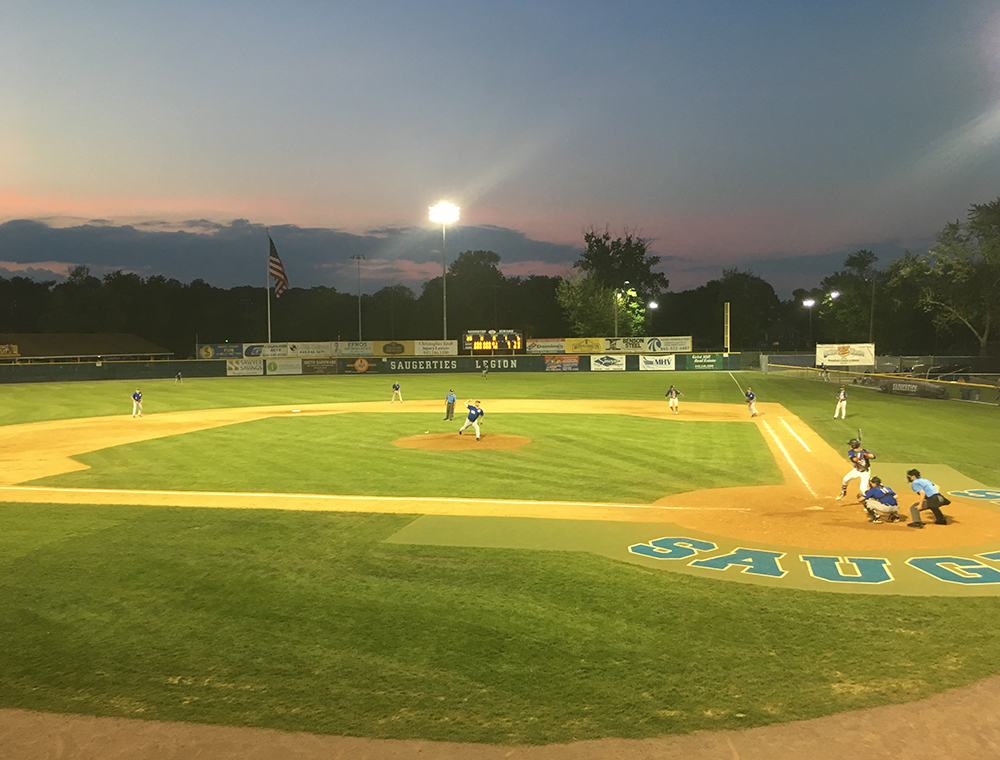 SAUGERTIES N.Y. – The Albany Dutchmen (16-10) scored four runs off a combination of errors and situational hitting to beat the Saugerties Stallions (15-11) 5-1 on the Fourth of July.
In the top of the first inning, the Dutchmen scored two runs off two Stallions errors. Ryan McGee (Siena) reached on an error by the first baseman then moved to second after a wild pitch. After Justin Bench (Ole Miss) walked, McGee took off for third on a double steal and an errant throw from Hayden Travinski (LSU) brought him home. Mitchell Henshaw (St. John's) groundout to short plated Bench to give Albany a 2-0 lead after the top of the first inning
Nick Grabek (Fairfield) started his fifth game for Albany and went 4.2 innings, allowing four hits and no runs. His pitch count exceeded 80 in the fifth as Jack Delaney (St. John Fisher) came on to get the final out of the inning. Grabek showed his displeasure about being taken out of the game as he wanted to finish the inning.
"Grabek is a competitor," said Dutchmen Head Coach Nick Davey. "But he was only on five days of rest, and I had a pitch count of 80 to 85 for him going into today's start and he was at 84."
In the top of the fifth inning, the Dutchmen used situational hitting to extend their lead. Albany used a single from Luke Franzoni (Xavier) and two walks to load the bases with no outs. McGee grounded out to second and Bench grounded out to shortstop to scored two more runs for Albany and increase the Dutchmen lead to 4-0.
"It was good to see." said Davey "It shows you don't have to do too much to score."
The last four innings the Dutchmen bullpen allowed five hits and one run coming off a Mitchell Sanford (LSU) fielder's choice in the seventh. Delaney got the win and Blake Bales (Virginia) who pitched the last 1.1 innings got the save. Albany's pitching staff have only allowed one run in the last 22 innings.
"Our bullpen has been great," said Davey. "We've been competing, and I love where we are right now."
Bench would create fireworks as he tacked on a fifth run with a mammoth blast to left field in the 8th. The infielder is now tied for the team lead in home runs with three and leads Albany with a .370 batting average.
"I was just trying to hit the ball hard," said Bench. "I know the weight may not look like it, but [the power] is there."
With tonight's victory, the Dutchmen have won five in a row and now jump to a tie with Mohawk Valley for second in the PGCBL East Division.
Albany's next game is Saturday, July 6th at home versus the Oneonta Outlaws. Game time is at 5:05 p.m. For tickets and more information, visit dutchmenbaseball.com.