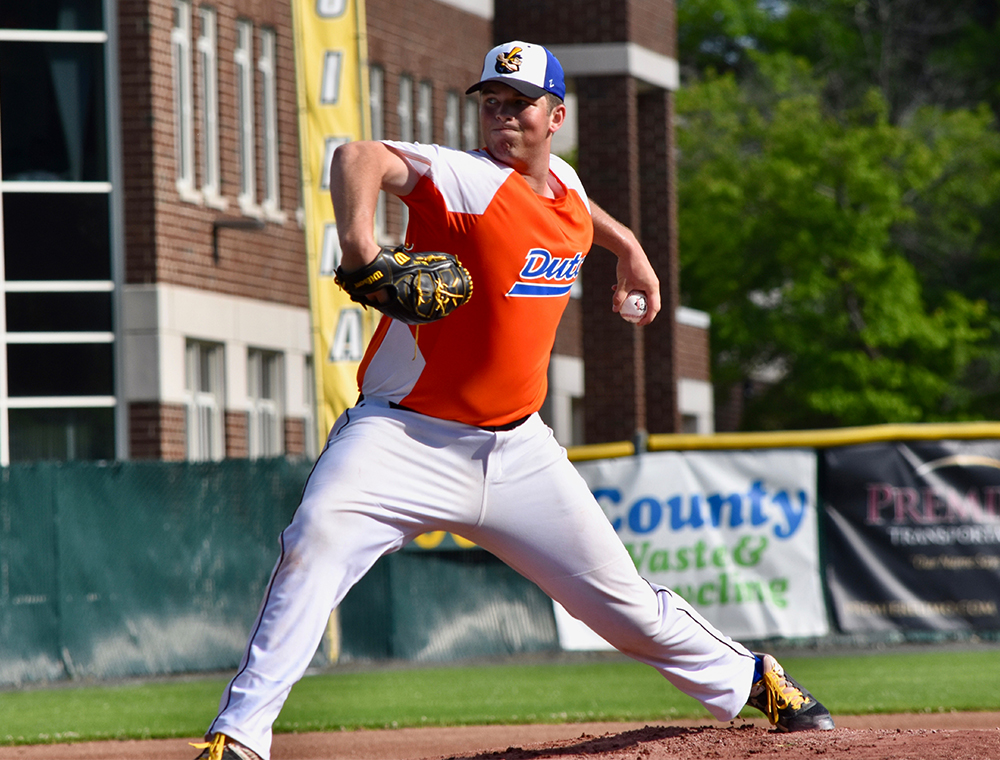 LOUDONVILLE, N.Y. – The Albany Dutchmen (16-11) and Mohawk Valley DiamondDawgs (19-11) got seven strong innings from their starters but the Mohawk Valley bullpen outlasts Albany's in a 4-2 11-inning win.
The DiamondDawgs got the scoring started in the top of the second after Ryan Keenan (Vanderbilt) hit into a 6-4-3 DP with the bases loaded. The bases were loaded by a single, walk and an error by Tommy Pellis (Seton Hill).
The Dutchmen only had one hit against Mohawk Valley starter Jimmy Joyce (Hofstra) through the first three innings. In the fourth Justin Bench (Ole Miss) singled, stole second and advanced to third on a wild pitch. Luke Gold (Boston College) brought him home with an RBI single to tie up the score. Joyce threw seven innings, allowing just one run, and three hits while recording five strikeouts. Albany left three runners on base against Joyce, all in scoring position.
"With guys in scoring position we haven't clutched up," said Dutchmen Head Coach Nick Davey. "We are just trying to do too much."
Seiler allowed only two runs to the DiamondDawgs; one earned on the day. The second Mohawk Valley run came from an RBI single from Jake Barbiere (Rider) in the fifth inning. Through 7.1 innings, Seiler allowed five hits, three walks, and struck out seven hitters in the best start of the season for the Dutchmen.
"Seiler is a bulldog and gets you deep in games," said Davey. "He pitched to get contact and got ahead on batters."
In the bottom of the eighth Albany faced a new pitcher in Luc Scudalleri (Georgia College) and the Dutchmen took advantage of Joyce's absence. Will Duff (Vanderbilt) doubled to lead off the inning, moved to third on a single from Ryan McGee (Siena), and then scored on a wild pitch to tie the game at two. Two more Dutchmen runners reached safely in the inning before Mohawk Valley reliever Connor Stapleton (Concordia) ended the Albany threat.
Albany's Cash Crane (Trinity) and Mohawk Valley's Hunter Sibley pitched a scoreless ninth to send the game into extra innings. After a quick 10th inning, Dutchmen reliever Ian Foggo (The Citadel) allowed a leadoff walk to Nick Cimillo (Manhattan) to start the 11th. Blake Bales (Virginia) relieved Foggo and allowed a single to Jacob Josey (Florida Atlantic). Bales hit Keenan with a pitch to load the bases. CJ Rodriguez (Vanderbilt) then delivered an RBI single to score Cimillo. Josey scored on a sacrifice fly to right field off the bat of Dylan Klock (St. Thomas Aquinas) to give Mohawk Valley a 4-2 advantage.
Carson Coon (Manhattan) pitched a scoreless 11th to lock down the save for the DiamondDawgs. The Dutchmen move to 1-1 in extra inning games this season. Albany also drops to 1.5 games back behind Mohawk Valley for second place in the PGCBL East.
Albany's next game is Thursday, July 11th at home versus the Amsterdam Mohawks. Game time is at 5:05 p.m. For tickets and more information, visit dutchmenbaseball.com.