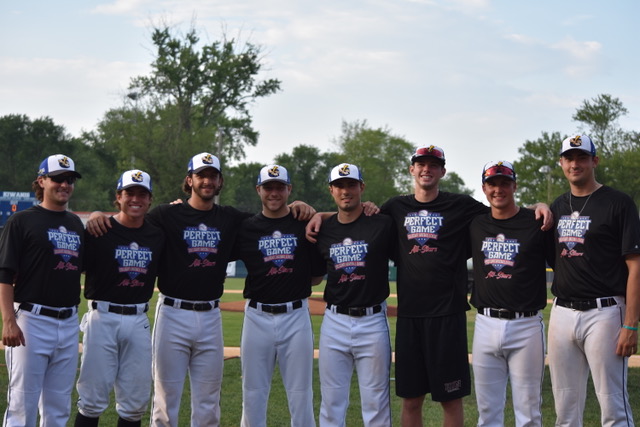 SAUGERTIES, N.Y. -- The PGCBL All Star Game ended in a 5-5 tie between East All Stars and the West All Stars. The All-Star Game was the 11th annual and was hosted by the Saugerties Stallions at Cantine Veterans Memorial Field. Seven Albany Dutchmen represented the East during the day's events.
Luke Franzoni (Xavier) competed in the Home Run Derby which kicked off the All-Star festivities. He hit 12 homers in the first round which launched him to the semifinal. He hit five in the next round and came up just short of advancing to the final.
Justin Bench (Ole Miss) and Aaron Roose (Azuza Pacific) got the start in the game for the East. Bench started at shortstop and moved to second base in the sixth. He played in the field for all nine innings and made a game-high five plate appearances and singled in the sixth.
Roose got the start behind the plate and caught five innings. He went 1-2 with a single in the fourth and caught two Dutchmen pitchers.
After Saugerties' Lane Miller allowed three runs in the top of the first, he was taken out and replaced by Nick Grabek (Fairfield). Grabek ended the first with a strikeout and threw a 1-2-3 second.
Blake Bales (Virginia) started the fifth and allowed a double and walk to the first two batters. He then battled back to strike out three in a row.
"I focused up and started to hit my spots," said Bales. "Roose called a good inning and I just made the pitched I needed."
Mitchell Henshaw (St. John's) entered the game in the sixth to catch the final three innings. Tommy Pellis (Seton Hill) subbed in at third base. Combined they went 0-4.
Albany's next game is Thursday, July 18th against the Oneonta Outlaws. First pitch is set for 7:05 pm. The Dutchmen's next home game is a doubleheader on Saturday, July 20th versus the Glens Falls Dragons. The first of two games will begin at 3:00 pm.