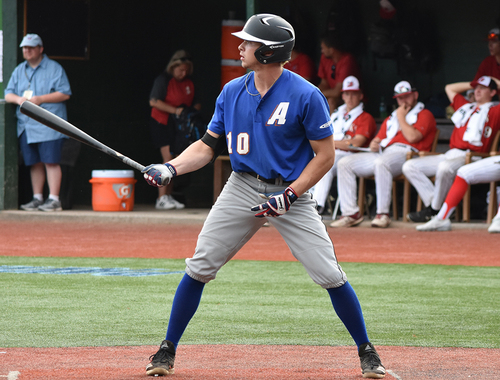 AMSTERDAM, N.Y. – The Albany Dutchmen (21-14) curtailed an Amsterdam Mohawks (29-8) comeback and won 8-6 to bring their magic number to clinch a playoff spot to one.
The day started with the continuation of the game played on July 14th between the two teams. The game resumed in the 5th inning with a runner on first and the score 4-2 Dutchmen. The Mohawks would score a run in the sixth but Joe Kruzka (Albany) shut Amsterdam down from there striking out four over two innings.
Ben Seiler (Siena) started the second game for Albany. On June 29th he walked four Mohawks in a five-inning start, but he struggled today, walking five through 3.1 innings. In the first inning Mitch Hartigan (Florida Atlantic) led off and walked, Richie Barrella (Manhattan) hit a single and Dalton Reese (Tennessee) drove both home with a three-run blast over the left-field wall. The next two innings Seiler allowed only one base runner.
The Dutchmen cut into the lead in the second and third. In the second Ben Metzinger (Louisville) hit a sacrifice fly and in the third Justin Bench (Ole Miss) scored Chris Seng (Louisville) on a groundout to shortstop. The score was 3-2 after three innings.
In the fourth Seiler again was plagued by walks. He put Michael Turconi and DJ Poteet (Wake Forest) on first and second with base on balls. A flyout to right field put Turconi on third base and a Matt Padre (Manhattan) single brought him home. Aaron Dona (St. Thomas Aquinas) relieved Seiler and one more run came home which was charged to Seiler. Seiler allowed five runs through 3.1 innings.
"He struggled in the beginning," said Davey. "Settled into it but had the walks and was tired out"
In the sixth down by two Albany went to work. Eight Dutchmen came to bat and five scored. After David Harrison (NC State) walked two batters, he was relieved by Brendan Disonell (Stony Brook). Metzinger delivered a two-run double followed by an Aaron Roose (Azuza Pacific) RBI single. With the score tied, Amsterdam brought in Trey Alderman (Marshall) and Parker Noland came to the plate. Noland struck a two-run opposite-field moonshot. Albany scored all five runs with two outs.
"We got good pitches to handle," said Davey "It was huge inning for us and shows that we can respond even versus a good team."
The Dutchmen bullpen allowed no runs from the fifth through the eighth. Dona, Jack Delaney (St. John Fisher) and Anthony Amoroso (New Paltz) allowed no hits in those four innings.
"They did what they needed to do," said Davey. "Dona gave us length, Delaney handled the right-handers and Amoroso gave us a good inning"
A sacrifice bunt from Josh Hall (Ole Miss) brought home the eighth run for Albany. Ian Foggo (The Citadel) came on to attempt and save his second game of the season. With one out Geordon Blanton (Marshall) and Sam Zayicek (High Point) worked walks and the tying run came up. Rook Ellington (Kentucky) hit a single to right field to cut the deficit to two. Reese would then strikeout and Maxwell Costes (Maryland) walked to load the bases. Turconi then came up and went down on strikes.
"Foggo just competes," said Davey. "He wanted the ball in that situation and did a great job."
One more win or an Oneonta Outlaws loss tomorrow against Glens Falls would secure a playoff spot for the Dutchmen.
Albany's next game is on Thursday, July 25th against the Oneonta Outlaws (14-25). For tickets and more information, visit dutchmenbaseball.com