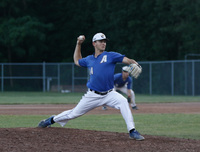 (ONEONTA)-- The Albany Dutchmen went down to Oneonta Friday night and broke their six game losing streak with a victory in game one of the doubleheader against the Outlaws, before falling in game two and returning home with a split.
After two scoreless innings to begin the night that included six up, six down from Dutchmen starter Danny Kelleher (Hofstra), Albany took advantage of a pair of Oneonta errors to score the first three runs of game one in the third. Oneonta responded with two in the fourth and one in the fifth to tie the game, before a big sixth inning for the visitors gave them the win.
David Silva Jr. (Ohio Dominican) led off the inning with a walk before proceeding to steal second and third and scoring on the Nick Schwartz (Southern New Hampshire) sacrifice fly to regain the lead. Chance Checca (Herkimer) and Austin Bode (Louisville) would follow with back-to-back singles to put runners on with two outs, and back-to-back doubles from Caden Shapiro (Princeton) and Anthony Raimo Jr. (Rhode Island) would make it a four-run sixth, and make it 7-3 Dutchmen.
Kelleher would pick up his second consecutive victory, going six innings, allowing five hits, three runs (two earned), and a walk to go with two strikeouts. He now sits at 2-0 on the summer with a 1.80 ERA and 0.90 WHIP- his ERA and WHIP lead all Dutchmen pitchers with at least three starts in the 2022 campaign.
Game two of the night would prove to be a different story. Silva Jr. would begin the nightcap by taking a hit by pitch, and after stealing bases three and four of the night (he would end up with six total to go to 33 on the year, currently second all-time in the Dutchmen record books), would score on the Schwartz groundout. Oneonta however responded with two of their own to take the early lead.
Albany would respond in the third, as Dutchmen All-Star Max Gebauer (Franklin Pierce) would draw a one-out walk, steal second, go to third on the Silva Jr. single, and score on the Tyler Young (Lehigh) sacrifice fly to tie the game. That tie would not last long however, as an RBI double from Connor Cooney (Holy Cross) would give the lead back to the hosts. Oneonta would score again in innings 4-6 to pull away and secure the doubleheader split by a score of 7-2.
The two teams are slated to meet again on Monday at Dutchmen Field, but not before the Dutchmen hit the road again on Saturday and head to Little Falls to take on the Mohawk Valley DiamondDawgs. First pitch is scheduled for 6:30.