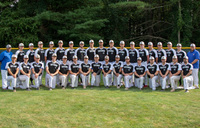 (ALBANY, NY)-- 2022 marked the final summer of Nick Davey's 13 year Albany Dutchmen coaching career, in a summer where both local and national talent came together in the Capital Region and formed an unbreakable bond.
The summer ended with a 22-24 record and saw 2022 Dutchmen Player of the Year David Silva Jr. (Ohio Dominican) steal 43 bases which set the new PGCBL benchmark, while 2022 Dutchmen Pitcher of the Year Danny Kelleher (Hofstra) carried a 1.62 ERA and a .179 OBA across 33.1 innings.
June got off to a historic start as the Dutchmen posted a 7-1 record in the first nine days of competition with a limited roster. While the beginning of summer ball usually poses a challenge with eventual key contributors still in postseason play for their school teams, the limited Dutchmen roster had no issue en route to outsourcing opponents 75-35 in the first eight games.
Albany went down to Saugerties on opening night and knocked off the reigning PGCBL champions behind 13 team runs, as well as a three-hit, two-double, three-RBI night from first baseman Matt Bergevin (Fairfield). The home opener came the following day, Saturday, June 4th which saw Albany pick up a pair of mercy rule wins against Glens Falls. The doubleheader sweep catapulted strong summers from infielders Tyler Young (Lehigh) who hit a three run home run in game one, and Danny Rogers (Central Connecticut State) who added four RBIs and two doubles in game two, as well as great starts from both Hunter Sabbers (Marist), and eventual Texas Rangers signee Dan Keaney (Guilderland HS).
One of the highlights of the summer came as Albany extended to a 4-0 start with a Danny Rogers walk off home run on Monday, June 6th. The hot start to the summer was capped off with a doubleheader sweep of Watertown on Saturday, June 11th, as the brand new black jerseys were debuted. Arlo Marynczak (Siena) threw a complete game three-hit shutout in game one, followed by a combined staff outing that held the Rapids to just one run in game two.
In the final full two weeks of June the team played .500 baseball as the Dutchmen went 6-6 and cooled off a bit. After back-to-back losses for the first time in June, a 9-0 win against Mohawk Valley came on Wednesday, June 15th as JT Larson (North Florida), Aidan O'Connor (STAC) and Danny Kelleher (Hofstra) combined for a one-hit shutout and took a no hitter through 7.2 innings. After going 6-6 from June 13th to June 25th, a couple of losses to end June sent the Dutchmen into July with a 13-9 record.
Back-to-back home wins came on the first two days of July. David Silva Jr. (Ohio Dominican) and Austin Bode (Indiana) each had a two-hit night with a double on the July 1st win against Glens Falls, and Frankie Sanchez (SNHU) dominated in his summer debut on July 2nd to the tune of five no-hit frames with eight strikeouts. Over the next three weeks of July the Dutchmen hit a skid to the tune of a 3-13 stretch.
The MLB Draft in Mid-July saw five former Dutchmen players have their name called across the 20 round draft. 2019 Dutchmen infielders and 2022 All-ACC members Luke Gold (Boston College) and Ben Metzinger (Louisville) were the first two Dutch off the board. Gold, the Ballston Spa native was selected in the 5th round by the Detroit Tigers before Metzinger went off the board in the 7th round to the Milwaukee Brewers. '17 Roel Garcia (Rice) was picked by the Tampa Bay Rays in the 14th round after six years of solid pitching at Rice. 2019 Albany Dutchmen Player of the Year Justin Bench (Ole Miss) was picked by the San Francisco Giants in the 17th round fresh off of his championship run at Ole Miss. The fifth Dutchmen, and fourth from the 2019 squad to be selected was Luke Franzoni (Xavier) after a season which he launched 29 home runs which ranked second in the NCAA.
Three more former Dutchmen were signed as free agents after the draft. '18 Cam Masterman (Louisville) inked a deal with the Oakland Athletics and became the third former Louisville Cardinal to come through Albany and join the pro ranks, following the footsteps of Ben Metzinger and Lucas Dunn. '18 Jerry Huntzinger (Xavier) signed with the Toronto Blue Jays after an All-Big East First Team recognition in 2021 and a stellar 2022 season. '22 Dan Keaney (Guilderland HS) is fresh off a dominant summer with the Dutchmen, and decided to forgo his college eligibility to sign with the Texas Rangers.
The final week of July saw the Dutchmen get back to their winning ways as the squad went 4-2 across the final week as they made a commendable playoff push. The week got off to a hot start with a 3-1 win in Amsterdam against the eventual champion Amsterdam Mohawks as Michael DiMartino (UAlbany) dealt six shutout one-hit innings and Connor O'Neill (Manhattan) struck out four across the final three frames to finish the job. Bullpen domination continued into the following day with a 7-5 victory at Glens Falls as Billy Fitzgerald (Fairfield) threw three shutout innings with one hit and six punchouts. Wednesday marked Coach Davey's final home game as the tenured head man was celebrated in pregame ceremonies before a loss to Amsterdam.
Albany went to Oneonta for a doubleheader on Thursday with the chance to push their way to the inside of the playoff picture. Albany picked up seven hits in game one but could not quite find the big base hit as Danny Kelleher's six shutout would not quite be enough before giving up the lone run of the game on a 7th inning walk off. Back-to-back wins followed in game two at Oneonta with a 9-4 win, and a 10-5 final in the season finale at Saugerties.
The Albany Dutchmen would like to thank the players, coaches, interns, host families, the town of Guilderland, Guilderland Baseball, and everyone else that contributed to our 2022 summer.