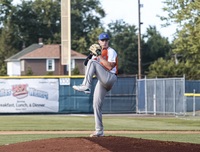 The 2023 PGCBL season has come to an end for the Albany Dutchmen after a heartbreaking 5-3 loss to the Saugerties Stallions. The 5-seed Dutchmen (21-20) traveled down to Saugerties face the 4-seed Stallions (23-17) for an action-packed and competitive game throughout.
After three scoreless innings to start, the Stallions struck first in the fourth with a two-out, RBI double by Damion Kenealy (Polk State). The Stallions did not stop there, scoring four more runs over the next three innings with Andrew Amato (Delaware) doing a bulk of the damage, scoring on a wild pitch in the fifth, and bringing in two runs on a two-RBI single in the sixth.
After two rainouts to end the season, Albany had not played a game since their doubleheader Wednesday, and the rust showed. But after six shutout innings, the Dutchmen found their offensive groove in the seventh, plating three off of back-to-back-to-back RBIs from Joe Karpierz (Xavier), Nick Plue (SUNY Cortland), and Mario Cubello (SJFU/Transfer Portal). Just like that, it was only a one-run game.
Saugerties responded quickly, getting one back of their own after Conor Kelly (UMass-Lowell) grounded into a double play, with Ethan Conrad (Marist), scoring an unearned run from third. With two innings to play, the score was 5-3.
That is how the score would remain for the rest of the game. Nick Kolze (Heartland CC) came in to deliver two excellent innings of one-hit baseball to blank the Stallions, but it was not enough as Albany was unable to plate another, and ended up falling to the Stallions, 5-3.
That concludes Albany's 2023 summer season, filled with great individual player performances and electric team play, which allowed the Dutchmen to come away with four mercy rule wins this season and a record of 14-6 in the regular season in the month of July.
Albany will end their summer here, while the Stallions will head to Amsterdam to face the reigning champs tomorrow night.