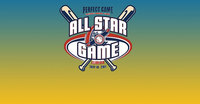 The Perfect Game Collegiate Baseball League is happy to announce that this year's All Star Game will be held at Colburn Park in Newark on July 24th.
"We are very excited to be hosting the 2013 All Star game here in Newark. This will be a great opportunity for the fans in Newark to really see the best players that the PGCBL has to offer.", said Newark GM Brian Connell. "It's an honor to host this great event that gives these players a chance to showcase their talent."
Along with the All Star Game itself, there will be Scout Day activities that will give the All Stars a chance to show off their skills in front of major league scouts. Also the players will be able to show off some of their power in the Home Run Derby before the game. All of this to go along with the on field promotions, great food and great atmosphere that you have come to know at Colburn Park, you won't want to miss it!
"The Pilots are a great organization. They consistently treat their fans to a fantastic evening at the ballpark and have made so many improvements to Colburn Park," stated PGCBL President Jeff Kunion. "They truly represent the ideals of the PGCBL and the Board of Directors recognized their efforts by awarding them the 2013 All Star Game."
Tickets for the 2013 PGCBL All Star Game can be purchased from the Newark Pilots office. For more information on this years All Star Game visit www.pgcbl.com or www.newarkpilots.com