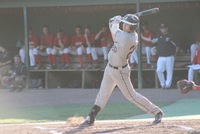 A year ago, Matt Dacey (Richmond) was a late entry to the PGCBL Home Run Derby, an event he wound up winning.
Dacey's Derby showing in 2014 will be no surprise.
The 2013 Dutchmen first baseman will participate in the 2014 TD Ameritrade College Home Run Derby at TD Ameritrade Park in Omaha, Nebraska, home of the College World Series. Dacey will be one of ten hitters with the opportunity to hit in Omaha, and nine will look to dethrone defending champion Mike Aquino (Rice). The event will air live on ESPN on Thursday, July 3rd at 7:30.
The former Dutchmen said he was in disbelief when he heard the news.
"I was speechless," Dacey said. "My coach called me and told me he had good news, and I honestly didn't believe him when he told me."
The first baseman drilled six home runs in the 2013 PGCBL campaign, the second best total in the league. In his first season at Richmond, he belted a team-high 12 bombs, one of the top-20 totals in Division-I baseball.
Dacey credits the Dutchmen and the PGCBL for helping him get back into top playing condition after a year at Michigan where he didn't see any action.
"I was definitely a little rusty after not playing at Michigan, and playing in Albany gave me the chance to swing the bat again and see some good pitching," Dacey said. I think it really helped me going forward.
In 2013, Dacey was selected to both the PGCBL Rising Stars team and was a postseason All-League selection for Albany, helping the Dutchmen to their first playoff berth in franchise history.
Dutchmen head coach Nick Davey said Dacey was a huge part of the Dutchmen's success in 2013, as a big hitter in the middle of the Albany order.
"He was a big power threat for us in the middle of our lineup, and he gave us a viable number four hitter that could protect some of our other guys," Davey said. "He had an advanced approach as a freshman, and you can see that in the numbers he put up this season."
The 2013 PGCBL Home Run Derby was the first home run contest that Dacey had ever participated in, and he states the experience will aid him immensely in the College Home Run Derby against some of the best power hitters in the country
"I think its going to help me a lot, to know how to approach it. We used wood bats last year, and we get to use BBCOR bats in Omaha, so hopefully I'll be able to power a few out that wouldn't normally be a home run.
As for advice, Davey said he would tell Dacey to stay within himself and find the right balls to drive over the walls in Omaha, a ballpark notorious for being hard to hit home runs in.
"I would say to just get good pitches, stay to your pull side, and collapse and crush some baseballs," Davey said.