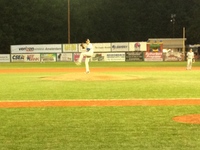 The Albany Dutchmen dropped their fourth consecutive game, and fell into a tie for the final PGCBL East Playoff spot after a 4-2 loss to the Amsterdam Mohawks on Friday at Shuttleworth Park.
The Dutchmen jumped ahead in the second inning, scoring the game's first run. Justin Brock (Franklin Pierce) walked to start the inning, and stole his 15th base of the season. He moved over to third on a flyout to right from James Locklear (Rider). After a fielder's choice from Jake Hanson (Valparaiso) put runners on first and third, Brock scored when he crossed the plate just before the tag was applied on a strikeout-caught stealing.
Amsterdam took the lead in the bottom of the fourth inning. After Josh Gardiner (Radford) singled and Joey Aiola (Marist) flew out, Tom Kain (Lynn) drilled a two-run home run well over the left field wall to give the Mohawks a 2-1 lead.
The lead was extended to 3-1 by Amsterdam in the bottom of the fifth inning. Brendan Tracy (Fairfield) began the inning with a single, and was moved to second base on a sacrifice bunt from Jack Czeszewski (Illinois State). After a groundout moved him to third base, Tracy came into score on a wild pitch.
Albany trimmed the deficit to one run in the top of the seventh inning. Hanson led off the inning with a single, and a Dave Vaccaro (Radford) double put runners on second and third with no outs. Danny Hrbek (Radford) drove in Hanson on a groundout, but Vaccaro was stranded on third after back to back strikeouts.
A one-out triple from Nick Jewett (Trinity University) would give the Dutchmen a chance to tie the game in the top of the eighth inning, but a line out and a groundout stranded the potential tying run.
The Mohawks added an insurance run in the bottom of the eighth inning.
Czeszewski led off the inning with a double, and moved to third base on a passed ball. He scored on a single from Joe Purritano (Dartmouth).
The win for Amsterdam was awarded to E.J. Ashworth, while Jake Welch (Notre Dame College) was charged with the loss. Welch pitched well in the losing effort, striking out five hitters over seven innings of work. Thomas Hackimer (St. John's) earned the save for the Mohawks.
The Dutchmen return to action on Saturday in a crucial game with the Glens Falls Golden Eagles, who are now tied with the Dutchmen for the final playoff spot. The team will give away Dutchmen Solo cups to the first 200 fans in attendance, and cash and prizes will be hidden in hot dog wrappers throughout the night. First pitch is scheduled for 7:05 at Bellizzi Field.