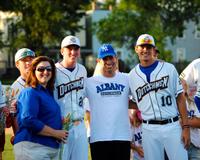 With the 2016 season fast approaching, the incoming group of Dutchmen will be soon be descending upon Albany. Many of these players are coming from hundreds or even thousands of miles away, and are making their first trip to the Capital Region. Each player, to help with the transition to a new environment, will stay with a host family during their time in Albany.
The 2016 season is just about six weeks away, and the Dutchmen are in need for a few additional host families for the upcoming season.
Dutchmen host families receive innumerable benefits, not the least of which is the opportunity to host a possible future professional baseball player. Host families are given free season tickets, attendance at parties and picnics with the team, and host families with kids can attend camps for free. To host a player, the family only needs an extra bedroom or sleeping area for the player and their belongings.
Hosts that join the Dutchmen family see the benefits almost immediately. Amie Bennett, who is one of the team's Host Family Coordinators, said the players her family has hosted become role models for her children.
"I see the positive effects in my son and my daughter," Bennett said. "They both play softball and baseball and they are seeing the hard work it takes to succeed, and they are also gaining life long friends."
Another Coordinator, Shannon Steltz said her family is happy to help players on their baseball journey, and that the Dutchmen truly become part of the family- even for more than just a summer.
"It's a relationship that you build with these players," Steltz said "that when they walk out the door on the last day and it's time for them to go back home, it is heartbreaking for us but at the same time it's an honor to have met and become a part of their lives."
For Dutchmen players, the host family experience is just as beneficial. Ernie Clement played for the Dutchmen in 2014, and went on to be a selection on the 2015 All-College World Series team for Virginia en route to a National Championship. He is currently Virginia's leader in hits, and boasts a .361 batting average. Clement said his host family, with whom he still keeps in touch, helped him with the transition to the world of summer baseball.
"I had just graduated high school and had never really been away from home," Clement said. "It was really great to see a family that you'd never met before welcome you in with open arms."
Echoing Clement's sentiments is Michael Fitzsimmons, who was Albany's 2015 Player of the Year. Fitzsimmons is currently Ole Miss' everyday designated hitter, hitting .339 with ten runs batted in for the No. 14 Rebels. Fitzsimmons said while living with a host family is initially awkward, it quickly becomes a second home.
"Living with a host family is definitely a different experience, but it's a good one," Fitzsimmons said. "You're out of your normal comfort zone, but I was fortunate to have great roommate and great host family."
The host family experience is an unforgettable one for any family in the Capital Region with the capacity to host an Albany Dutchmen player. Any family that is interested in coming on as a host family can contact any of our host family coordinators. Information is available at http://dutchmenbaseball.com/contact/host/. Host Families Coordinators can also be contacted at the following locations:
Amie Bennett: (P) 518.852.1783 (E) [email protected]
Shannon Steltz: (P) 518.821.2856 (E) [email protected]
Scott Steltz: (P) 518.821.2856 (E) [email protected]