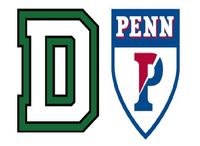 In the past few seasons, the Albany Dutchmen have had success drawing players from Ivy League schools, adding to rosters with such players as MLB Draft selection Joe Purritano (Dartmouth) and PGCBL All-Star Mike Reitcheck (Penn). The Dutchmen are happy to welcome three players from the Ivy League to the 2016 roster from two of the league's top programs- Dartmouth and Penn. Joining the Albany pitching staff will be the Big Green's Jackson Bubala and the Quakers' Gabe Kleiman, while Penn outfielder Jakob Levison will patrol the Bellizzi Field grass.
Jackson Bubala, a junior from Chicago, Illinois, is in his second full season pitching for Dartmouth, who have played in the Ivy League Championship Series eight seasons in a row. In 2015, Bubala went 1-0 with a 3.90 ERA. The 6-foot-5 righty worked 27.2 innngs with 16 strikeouts and just seven walks. The Big Green won four of his five starts en route to a division championship last season. Bubala made five starts in 2016, including holding then-No. 1 Florida to just two runs in 4.1 innings on March 5. In three bullpen appearances, Bubala did not allow an earned run in 6.1 innings. Out of high school, Bubala was one of the top 20 righthanded pitchers in Illinois, and among the top 40 players overall. He was a Central Region Honorable Mention selection by Perfect Game, and was a All-State selection for Latin School of Chicago.
Gabe Kleiman will also join the Dutchmen following his junior campaign. Kleiman proved to be Penn's best starter in 2016, recording a 2.24 ERA in nine starts. He went 3-3, and only walked 17 batters in 52.1 innings of work. Kleiman is a transfer from Bard College, where he was a two-way player for the Raptors. He pitched 26.2 innings with 32 strikeouts as a freshman, and also recorded 41 at-bats with nine RBIs at Bard.
Joining his Penn teammate will be outfielder Jakob Levison, a Trumbull, Connecticut who played in 13 games as a freshman for the Quakers. In 2015, Levison hit .258 in 31 at-bats, scoring four runs and recording two doubles. In 2016, Levison appeared in two games for Penn with a .500 batting average. The righthanded outfielder came to Penn from Trumbull High School, where he was an All-Conference selection as a senior, and played in the Connecticut state All-Star Game.
The Dutchmen are excited to welcome these three Ivy League products to Albany for the 2016 season, and hope to see the same high level production Dutchmen fans have come to expect from Ivy Leaguers.