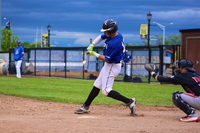 The Dutchmen bats came alive Sunday night as nine hits gave the Albany Dutchmen (6-2) a 7-4 victory over the Glens Falls Dragons (2-7) at Bob Bellizzi Field.
The Dutchmen offense was a standout of the game as an Albany batter reached base every single inning. The bottom of the order for the Dutchmen was particularly effective. Dutchmen shortstop Mychael Goudreau (Azusa Pacific University), who was the number 8 hitter in the Albany lineup, went 3-4 with 2 RBIs. He was named as the Recognize co-Player of the game.
Dutchmen 2nd baseman Bray Curreri (College of Saint Rose) doubled his hit total on the year, as he went 2-4 today.
The Dutchmen base runners also took advantage of Dragons catcher Trevor Smeeton (Colby Community College), as they tallied three runs on the scoreboard that were a result of wild pitches. A pair of Dutchmen, Cole Malloy (Butler University) and Justin Childers (Ohio Dominican University) scored on a wild pitches in the 1st inning, and Kyle Skeels (Coastal Carolina University) scored on a wild pitch in the 3rd inning.
Dutchmen starting pitcher Jack Grabek (Bucknell University) was very effective, pitching 5 innings of shutout baseball. He would allow 2 hits and 2 walks, but record 3 strikeouts. He would get the win and improve his record to 2-0 on the season. He would be the other Recognize co-Player of the game.
Jeff Rivera (University of the Cumberlands) continued to impress out of the bullpen. He pitched 2 innings, allowed 0 hits, and struck out 1 batter. J.D. Mundt (University of Louisville) struggled in 2 innings of work however, allowing 7 hits and surrendered all four Dragon runs.
Dragons starting pitcher Bryan Warzek (University of New Orleans) couldn't get in his groove and in five innings of work, he would allow five runs on five hits, allow six walks, and three wild pitches. He would strikeout four Dutchmen in the losing effort. The loss drops his record to 0-3 on the year.
The Glens Falls Dragons have a day off Monday. They return to play on Tuesday, when the travel to Saugerties to play the Stallions at 6:35 p.m.
The Dutchmen stay at Bob Bellizzi Field as they welcome the Victor RailRiders to Albany. All children under 12 eat for free with paid admission to Bob Bellizzi Field. First pitch is scheduled for 7:05 p.m.