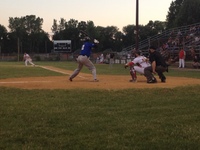 The Albany Dutchmen (7-5) went on the road Friday night and took a victory over the Glens Falls Dragons (2-11), as the Dutchmen bats pounded out 12 hits.
The Dutchmen were led on the offensive side by Justin Childers (Ohio Dominican), as the team's leading hitter went 2-for-3, reaching base a team-high four times, while tallying 3 of the team's 6 RBIs.
After a quiet first inning from each side, the Dutchmen bats woke up in the 2nd inning, as back-to-back singles from Brent Alford (Augusta) and Dillin Diehm (Indiana State) put runners on 1st and 2nd base. After a sacrifice bunt from Micah McHugh (Ole Miss) put the runners on 2nd and 3rd and only one out, back-to-back RBI singles from Jack Gethings (Fairfield) and Cole Malloy (Butler) gave the Dutchmen an early 2-0 lead, and an opportunity for more.
And they jumped at the chance.
After Jon Skidmore (Dallas Baptist) walked with 2 outs, Childers cleared the bases with a double off the wall in left field, clearing the bases and making it 5-0 Dutchmen after only two innings at the plate.
The Dutchmen also got a strong performance from their pitching staff tonight, as four pitchers combined to allow only six hits and only a single run from the Dragon bats. Cooper Jones (Southern Miss) got the start, allowing only one hit in his three shutout innings of work, and Jackson Bubala (Dartmouth) took home the victory, after pitching a solid 2.1 innings.
The Dutchmen also got solid performances from multiple bats. Skidmore went 2-for-4 with a run while Diehm, tallied a 2-for-5 with a run line. Malloy, finished 2-for-4 with 2 runs and 2 RBI's, and Gethings, ended with a 1-for-2 with a run, walk, and RBI line.
Glens Falls will travel to Utica tomorrow for a 6:35 first pitch against the Blue Sox.
The Dutchmen will return home to Bellizzi Field for Werner Ladder and Baseball Bingo Night, as they host the Saugerties Stallions as part of a doubleheader beginning at 5:05. The first game will be a makeup of the rained out game from June 5th.