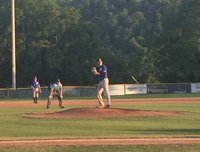 The Albany Dutchmen (9-6) came up just short against the Mohawk Valley Diamond Dawgs (7-7) on Sunday night, losing by a final score 6-5.
The Dutchmen were down 6-1 heading into the top of the ninth and their last chance at the plate. With men on second and third, leadoff hitter JJ Shimko (University of South Carolina Upstate) hit a single driving in one run and cutting the lead to four. With runners on the corners and two outs, the Dutchmen needed to get something going.
Justin Childers (Ohio Dominican University) stepped up to the plate and drew a walk loading the bases for cleanup hitter Kyle Skeels (Coastal Carolina University).
Skeels clobbered a bases-clearing double that cut the lead to 6-5, and the Dutchmen had nearly completed the comeback.
With a runner in scoring position and down by one, Albany could not complete the comeback, however, as Mychael Goudreau (Azusa Pacific University) struck out swinging to end the game.
Both teams were held scoreless through five innings until Mohawk Valley's first baseman, Michael Ketchmark, hit a two-run homerun in the sixth to put the Diamond Dawgs up 2-0.
After the home run, the floodgates opened for Mohawk Valley. They scored two runs in each of their plate appearances in the seventh and eighth inning.
Gavin Wallace (Fairfield College) got the start for the Dutchmen and threw six innings allowing six hits, two runs and one walk, while striking out five batters.
The Diamond Dawgs started David Palmer (University of New Haven) who was a big reason for the Dutchmen's lack of runs throughout the game. Palmer went seven innings recording eight hits, no runs, one walk and struck out eight hitters.
Albany failed to complete the comeback but did record their most hits of the season in a single game (13). A big contributor was JJ Shimko who went 4-5 with two runs.
The Dutchmen are back in action on Tuesday when they take on Glens Falls at home at 7:05 p.m. Mohawk Valley goes on the road to face Utica tomorrow at 6:35 p.m.