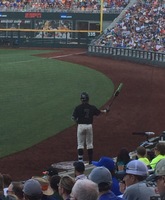 Former Dutchmen Anthony Marks (2013) and Zach Remillard (2012, 2013, and 2015) have been nothing short of crucial for the Coastal Carolina University Chanticleers, as the Chanticleers took home their first ever College World Series victory in their first ever College World Series appearance Sunday night, a 2-1 victory over Florida, the #1 team in the nation.
In Game 1 of the school's first ever Omaha appearance, Remillard and Marks led the offensive against 2016 2nd round draft pick Logan Shore. The pair combined for 4 of the team's 9 hits in the game, and Marks scored the first run in Coastal Carolina College World Series history.
In the top of the 3rd, Remillard laced a double down the right field line originally ruled foul, but after the first replay review in College World Series, it was clear the ball hit the chalk on the line, and Marks scored after just 3 batters before doubling down the left field line, giving the Chants a early 1-0 lead. Marks finished 2-for-5 with the run scored.
After Florida tied the game in the bottom of the 5th, Coastal Carolina subsequently scored in the top of the 6th as Remillard crushed a ball into deep center, and as the Florida center fielder couldn't catch the fly ball as he leapt against the wall, Remillard motored his way all the way to 3rd, almost lapping teammate Connor Owings as he scored from 1st, and provided what would be the winning run to advance the Chants, as he finished 2-for-4 with the team's only 2 RBI's.
The Chants began their Road to Omaha in the Raleigh regional, where they rolled through the winners bracket before making it to a win or go home matchup with NC State, where it took them two days and a four run top of the 9th to get by the regional host and advance.
After winning the regional, the Chanticleers advanced to the Super Regional to travel to Baton Rouge and take on the #8 squad in the country in the LSU Tigers. After a Game 1 victory, Coastal Carolina was the home team in Game 2. Tied 3-3 headed to the bottom of the 9th, Marks led off with a walk, stole 2nd on the first pitch, and scored the game winning run to send the Chants to Omaha.
Remillard, Marks and the team will face off with TCU on Tuesday night at 9:00 PM. Fans can watch the game on TV on ESPN or on their phones, tablets and other devices on WatchESPN.