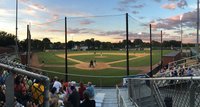 The Albany Dutchmen (12-12) defeat the Mohawk Valley DiamondDawgs (12-11) 4-2 at Bob Bellizi Field to end a four-game losing streak Thursday night.
After falling below .500 for the first time when the Dutchmen lost to Amsterdam in their last game, the Dutchmen climb back to an even record.
Coming into this game the Dutchmen struggled getting runners on base, but tonight they had eight hits and had 14 base runners in total.
The spark that ignited the Dutchmen offense was the bottom of the order. Bray Curreri (College of Saint Rose) was 1-2 with a single, two walks and scored the third run for Albany, which proved to be the decider.
Cole Malloy (Butler University) also shined in the nine-hole. He also went 1-2 with a single and two walks while scoring a run and earning an RBI after walking in a run with the bases loaded in the bottom of the second.
Malloy also had a highlight catch in the top of the eighth inning. The Mohawks centerfielder, Drew Arciuolo (Fairfield University), hit a ball into deep right field with runners on first and second. Malloy made a diving over the shoulder catch and then threw out Justin Fowler (Dartmouth College) for the double play.
Evan Giles started strong for the Dutchmen pitching 4.2 innings allowing four hits, one earned run and adding on six strikeouts.
Drew Robertson (Baylor University) got the win decision pitching 2.1 innings allowing four hits and one run, while tallying five strikeouts. It was a strong showing for the Baylor Bear, who played in his last game for the Dutchmen tonight. He is heading back to Waco, Texas to his college campus to continue his training.
Mike Appel (Central Connecticut State University) started on the mound for the DiamondDawgs. He threw four innings recorded three hits, two earned runs, four walks and one strikeout.
Mike Crispino (Fairfield University) shined in the batters box for Mohawk Valley. He went 2-3 with two singles, two RBI's and a walk.
These two teams will meet once again tomorrow at Mohawk Valley. The contest is set to start at 6:35 PM.