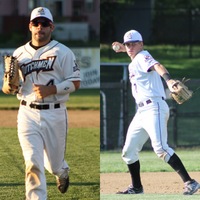 On Thursday afternoon, the Coastal Carolina University Chanticleers (55-18) won the 2016 NCAA Baseball Championship, over the University of Arizona Wildcats (49-24), by a score of 4-3. Two of the catalysts, and College World Series All-Tournament team members, for those champion Chanticleers are former Dutchmen Anthony Marks and Zach Remillard.
The 2013 Dutchmen Marks has been one of the most important players for Coastal all year, as the senior hit leadoff or second all season, and his obvious heart for the game led them all year. In the College World Series, that would remain the same, as the left fielder led the squad with a .387 average to go with his four runs, four runs batted in and four walks throughout the College World Series.
The 2012, 2013 and 2015 Remillard has also had keen importance for the Chanticleers, as his presence in the middle of the Coastal lineup as the team's premier power hitter, leading the Chants with 19 homers and 72 runs batted in, was used towards his advantage. The third baseman hit .290 with three runs batted in, four runs, two doubles and a triple throughout their stay in Omaha, including his game-winning triple in the Chanticleer's first ever College World Series game, when they took the victory over the #1 team in the nation, the University of Florida Gators (52-16).
The Dutchmen would like to wish great luck to Remillard, as he was taken in the 10th Round of the 2016 MLB First-Year Player Draft by the Chicago White Sox, and will now head to Chicago to sign his first professional contract to continue his baseball career, and Marks as he signed Friday afternoon with the San Francisco Giants to extend his baseball career.The Dutchmen also have two current Chanticleers on their 2016 roster, as redshirt freshmen pitcher Jared Gold and catcher Kyle Skeels have decided to spend their summer in Albany, as they hone their talents looking to repeat as National Champions next year.
The Dutchmen would like to congratulate all four players on their incredible achievement, and continued success to Zach and Anthony in the next steps in their baseball careers.