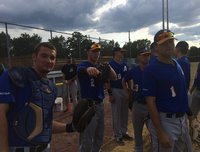 The Albany Dutchmen (14-13) travelled three hours west to play the Geneva Red Wings (6-20) in the third game of a four-game road trip at McDonough Park on Sunday. The Dutchmen came out victorious, beating the Red Wings 5-3.
It is Albany's first win against a western division opponent this season, losing to both Victor and Utica in mid-June.
Both teams scored a quick run in the first inning to make it 1-1, but then theirs bats became silent until the sixth.
Micah McHugh (University of Mississippi) put the Dutchmen up by two after an RBI double in the top of the sixth cleared the bases making Albany's lead 3-1. The Dutchmen wouldn't look back.
They scored two more runs in the seventh when Brent Alford (Augusta University) stole home and JJ Shimko (University of South Carolina Upstate) hit a sacrifice fly and to extend their lead 5-1.
Geneva would try to respond, scoring one run in the seventh and another in the ninth, but fell short of a comeback.
Gavin Wallace (Fairfield University) earned his first win of the season on the mound for the Dutchmen. He threw seven innings allowing nine hits, two earned runs, and struck out nine batters.
His strong performance earned him co-Recognize Player of the Game alongside McHugh.
Geneva's starting pitcher Dalton Reed (West Chester University) had a tougher day on the mound allowing all six Dutchmen hits, while recording five earned runs and three put outs.
With the win, Albany moves to 3.5 games back of leader Amsterdam (17-9), while Geneva falls into last place in the West.
The Dutchmen will complete their four game road trip with a Fourth of July matchup against Saugerties at 6:30 PM. Geneva will also take to the road to face Jamestown at 7:05 PM.