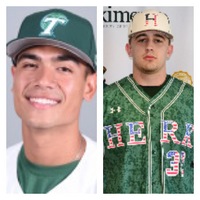 The Albany Dutchmen have signed two late additions to the 2016 roster, adding some much needed depth to the outfield. Anthony Forte (Louisiana State University Eunice) and John Novenche (Canisius College) have joined the team.
Forte, who signed Monday evening and made his debut in a pinch-hitting appearance in the 9th inning the same night, joins from Tulane University, where he will be transferring from this upcoming semester to Louisiana State University Eunice. Forte, a native of Hoffman Estates, Illinois, did not play this past season at Tulane. However, in his high school years, Forte showed serious talent at James B. Conant High School, where he was Second Team All-State, All-Northwest Suburban First Team honors and All-Mid-Suburban Baseball League Conference First Team honors as a senior after hitting .369 with 10 doubles, five triples, eight home runs, 36 RBI, 38 runs and 27 stolen bases. He also owns the single-season school record in home runs, triples and stolen bases, while owning the second-most hits, RBI and runs in a single season after lettering all four years for the Cougars.
Novenche, who just signed Tuesday and will join the team right after he signs the contract, joins from Herkimer County Community College, where he will be transferring from this upcoming semester to Canisius College. Novence, who is a graduate of local Shenendehowa High School and reigns from Clifton Park, comes off a phenomenal season where he was named First Team All-America by the NJCAA. Novenche was among the nation's leaders is multiple categories this past season, including runs scored (55-18th in the nation), hits (68-25th), doubles (15-34th), and batting average (.420-38th). During the Region 3 Final Four the sophomore hit an impressive .467 with seven runs scored, one triple, two walks and three runs batted in against the best in the region. Novenche also tallied two or more RBIs in a game nine times this past season, hitting consistently from the leadoff spot.
The Dutchmen are excited to welcome Forte and Novenche to the 2016 team, and hope to see the pair excel in the final month of the season.