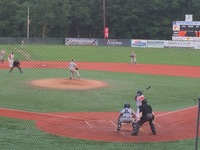 The Albany Dutchmen (20-18) fell to the Amsterdam Mohawks (27-12) Monday night by a score of 7-2.
The Dutchmen bullpen struggled, as the small dimensions of Shuttleworth Park did not work in their favor as the ball was flying all over the ballpark.
Albany would begin the scoring in the top of the third putting runners on the corners with only one out. JJ Shimko (University of South Carolina Upstate) would proceed to steal second, and Chris Givin (Xavier University) would receive the throw. He would eye Justin Childers (Ohio Dominican University) leaning a little too far off of third, but his throw would be wild, going out of the play and allowing both runners two bases, coming home to score and make it a 2-0 ballgame.
Amsterdam would look to respond in the bottom half of the inning, as Andruw Gazzola (Stony Brook University) would single with two outs. He would then swipe second, and come around to score on a Givin RBI single to cut it to 2-1.
Both teams would remain quiet for the next couple frames before Amsterdam would end the short streak in the bottom of the sixth. Givin would lead off reaching on an error, and after Tyler Frank (Florida Atlantic University) walked Joe Genord (University of South Florida) hit a three-run homer off of Jack Grabek (Bucknell University) to give Amsterdam a 4-2 lead.
Albany's bats would remain quiet after putting up five hits in the first three innings, as Mohawk starter Cameron Enck (University of Maryland) would find his groove going six fairly strong innings, and Mike Bonaiuto (Fairfield University) and Chase Haney (Florida State University) would keep the Dutchmen quiet.
The hosts would add to their lead in the bottom of the eighth, putting up three more runs, all with one out. Genord would walk, and Nick Patten (University of Delaware) would follow with a two-run bomb off Dutchmen reliever and 2016 PGCBL All-Star Jeff Rivera (University of the Cumberlands). Teddy Cillis (Hofstra University) would then lace a double, and Tristen Carranza (New Mexico State University) would bring him in with a RBI single to provide the final score of 7-2.
Kale Morton (Azusa Pacific) got the start for the Dutchmen, going his scheduled three innings of work, allowing two hits, one run (earned), and one walk while striking out three. Grabek was also scheduled to go three innings but only could get through two, allowing two hits, three runs (two earned) and walked two. Gavin Wallace (Fairfield University) was scheduled to go the final three frames, but was scratched due to migraines earlier in the day. Dutchmen Head Coach Nick Davey scheduled the three to throw their respective innings to allow them to get some work in before the three day All-Star break.
Childers would finish the game 2-for-4 with a run, and Cole Malloy (Butler University) would end up 2-for-4 hitting in the two spot. Shimko would end his night 1-for-4 with a run.
Jack Owens (Bryant University) and Jackson Bubala (Dartmouth College) would throw the other two innings for the Dutchmen, each going an inning and combining to strike out four, Bubala responsible for three of those, also allowing a meek single.
Amsterdam will not benefit from an All-Star break, as they head to Saugerties to face the Stallions tomorrow at 6:30.
Albany will have tomorrow off before hosting the All-Star Game and it's festivities Wednesday at Bob Bellizzi Field. Gates will open to the public at 4:30 p.m., with the Home Run Derby scheduled for 5:30 p.m. and the All-Star Game scheduled for 7:00 p.m. All information, including a link to purchase tickets, can be found here: http://dutchmenbaseball.com/2016-all-star-game/.