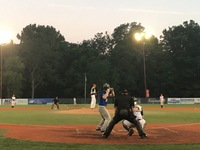 The Albany Dutchmen (28-20) fell to the Amsterdam Mohawks (34-15) by a score of 4-1 Friday night in Game Three of the PGCBL East Division Final, ending the 2016 Dutchmen season.
2016 was a historic season for the Dutchmen, as the Dutchmen reached the East Division Final for the first time since 2013 and players such as Justin Childers (Ohio Dominican University) and JJ Shimko (University of South Carolina Upstate) had a couple of the best seasons in Dutchmen history.
Amsterdam would begin the scoring in the first, as Joe Genord (University of South Florida) hit a two-run homer to give the hosts a early 2-0 lead.
The Mohawks would continue to open up the game in the bottom of the fourth, as Nick Patten (University of Delaware) hit a solo bomb to make it 3-0.
Albany would put on their lone run of the game in the top of the sixth, taking advantage of the lone error in the ballgame. Cole Malloy (Butler University) reached on a one out Tristen Carranza (New Mexico State) fielding error, and after Jon Skidmore (Dallas Baptist University) struck out, Shimko would lace a double high off the wall in left field, and Malloy hustled home after leaving on contact with two outs to make it 3-1.
Chris Givin (Xavier University) would provide the final run of the ballgame in the bottom of the seventh, lining a double down the left field, scoring Andruw Gazzola (Stony Brook University) to make it 4-1.
The co-Players of the Year in Childers and Shimko would fittingly have the best nights, as Chidlers finished with three of the five Dutchmen hits while Shimko had the lone RBI. Kyle Skeels (Coastal Carolina University) would go 1-for-3.
Kale Morton (Azusa Pacific University) would provide a solid start, going five innings, allowing three runs on four hits and four walks while striking out three. The Dutchmen wouldn't be able to back up their lefty ace however, as Mohawks starter Austin Keen (University of Kentucky) would throw six superb innings, allowing only two hits and one run (not earned) while striking out eight. He also faced 20 batters, only two more than the minimum.
The Dutchmen would like to congratulate the Amsterdam Mohawks on a great East Division Final and wish them the best of luck in the PGCBL Championship.
The Dutchmen like to thank all the players, coaches, and host families for all they do year round to put a successful team together. Thank you to all the sponsors for helping make this all happen, and thank you to the interns who have done a great job all season long. And last, but certainly not least, thank you to the fans. None of this could be possible without you and we thank you for all your support all year round. We appreciate you so much.