By: Dutchmen Front Office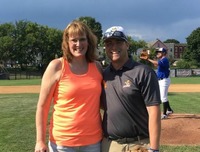 Dutchmen Assistant General Manager Robert Galm has formally accepted a position with ESPN as a Production Assistant. Galm, who recently graduated from SUNY Cortland with a BA in Communications, will begin his role with ESPN on its main campus in Bristol, Connecticut.
Galm was brought on with the Dutchmen in 2015 as a Video Production Intern before being hired as the Assistant General Manager in 2016. During his time with the Dutchmen, Galm was integral in developing the expansion of DutchmenTV, which produced all Dutchmen home games and the PGCBL's last two All Star Games. Galm also initiated the first ever Multiple Sclerosis Night, which included an awareness and fundraising walk for players and fans in support of his mother who is battling MS. Most notably, Galm was integral in the day to day operations of the Dutchmen throughout the 2016 season.

"Rob has done an outstanding job with the Dutchmen for the past two seasons. His contributions and tireless work ethic have been invaluable. Rob will be sorely missed but we wish him the best of luck and are excited for him as he furthers his career with this great opportunity at ESPN," said Dutchmen Vice President and General Manager, Jason Brinkman.

Galm is excited and eager for the new opportunity.

"Working at ESPN has been a dream of mine ever since I was a little kid thinking about his dream job. I knew that in order to get to this position and to find a job like this after graduation it would take hard work and many hours put in to perfecting my craft. Working at the Albany Dutchmen gave me that opportunity and reassured to me my love of sports," said Galm.

Galm credited his time with the Dutchmen as an opportunity to gain valuable experience in the sports industry.

He continued, "Working for the Dutchmen provided me with my first chance to enter the sports world at a professional level. In 2015 I came to the organization rough around the edges with a whole lot to learn. By the end of my second season in 2016, and in a bigger role with the team, I think it was clear I emerged a leader and had learned valuable skills and life lessons that will live in me forever. I am excited to be moving on to this next chapter in my life. I am so thankful to everyone, including the Dutchmen family, who have helped me get this far."
|
Back to index...