By: PGCBL Release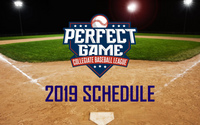 January, 24th, 2019
UTICA, N.Y.-
The Perfect Game Collegiate Baseball League has released the official schedule for the 2019 season, its ninth serving communities in Upstate New York. The full schedule can be found at the league website, PGCBL.com
Play is scheduled to begin on Friday, May 31, and will continue through August 8, when a new PGCBL Champion will be crowned.
The 2019 season will feature 12 teams, and a return to a two-divisional format. The Albany Dutchmen, Amsterdam Mohawks, Glens Falls Dragons, Mohawk Valley DiamondDawgs, Oneonta Outlaws, and Saugerties Stallions will play in the East Division, while the Adirondack Trail Blazers, Elmira Pioneers, Geneva Red Wings, Newark Pilots, Utica Blue Sox, and Watertown Rapids will compete in the West Division.
This season, eight teams will qualify for the PGCBL Playoffs, with four teams from each division playing on into August. The first round will consist of one game, while the Division Finals and PGCBL Finals will be best-of-three.
Each of the PGCBL's 12 franchises will play 48 games in 2019 – 24 at home and 24 on the road – with the regular season ending on July 31. The postseason will feature eight teams - four from each division - competing to be the new PGCBL champions. The All-Star Game will be played on July 16 at Cantine Field, home of the Saugerties Stallions.
Be sure to follow the PGCBL on Facebook, Instagram and Twitter to keep up with the latest news and information on the league and its teams.
The Perfect Game Collegiate Baseball League is a 12-team summer collegiate baseball league in Upstate New York. Since its inaugural season in 2011, the PGCBL – which annually draws talent from some of the best NCAA, NAIA, and junior college programs – has quickly evolved into the premier wooden-bat league in the state of New York, while becoming one of the most widely respected summer leagues in the country. The PGCBL is affiliated with Perfect Game, the nation's largest independent amateur scouting bureau. Last year, there were more than 1,500 players in the pros who either wore the uniform of a PGCBL team or participated in a Perfect Game event. For more information, please visit www.pgcbl.com.
|
Back to index...