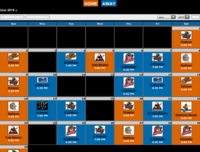 January 25th, 2019
Albany, NY: The Perfect Game Collegiate Baseball League (PGCBL) has unveiled the 2019 schedule for all twelve of its member teams. The regular season will begin on Friday, May 31st and end on Wednesday, July 31st. The PGCBL Playoffs will commence on Thursday, August 1st and be played until Thursday, August 8th. The PGCBL All Star Game will be played on Tuesday, July 16th and hosted by the Saugerties Stallions.
The Dutchmen will play their home opener at Connors Park at Siena College on Saturday, June 1st at 5:05PM against the Glens Falls Dragons. The 11th season in franchise history will begin on the road at Saugerties on Friday, May 31st.
Albany will have the unqiue opportunity of playing at home every Saturday and Sunday throughout June and July. The full schedule will consist of 48 games, with 24 home and 24 away dates. Of the home dates, 18 of 24 will be played on the weekend. All home games will be slated for 5:05PM start times.
Coming off a 26-17 season and 2nd place East Division finish in 2018, the Dutchmen will look to make their 7th straight post season appearance in 2019 and bring home their first league championship.