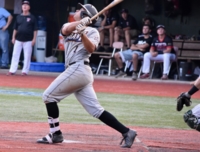 Monday, March 4th, 2019
Nick Estrella (Azusa Pacific, '17 & '18 Dutch): The junior right handed pitcher got the Friday night start and moved his season record to 3-0 with a 9-1 win over Concordia. He retired the final 12 batters in a row that he faced, sitting down 7 of them with strikeouts. Estrella's impressive final stat line read: 8.0 IP, 11 K, 1 BB, 8 H, 1 R.
Lucas Dunn (Louisville, '18 Dutch): Dunn closed out Louisville's 3 game sweep of James Madison by scoring the only run in the team's 1-0 win. He has reached base safely in all 11 games this season and holds a .317 BA for the 10th ranked Cardinals.
Jerry Burke (Georgetown, '17 Dutch): Burke paced the Hoyas with a career record 10 strikeouts in his Friday night start and win against Sacred Heart. The junior righty didn't allow a base runner until the 5th inning and only allowed two hits. His dominant final stat line in the 11-0 win was: 6.2 IP, 10 K, 1 BB, 2 H, 0 R.
Brad Gneiting (Rice, '17 Dutch): Gneiting continued his hot start to the season, going 7/17 over a 4 games span last week. Over that stretch, the Owls went 3-1, picking up wins over 12th ranked Baylor and 16th ranked TCU. Gneiting is currently leading the team with a .340 BA over Rice's first 12 games.
Ernie Clement (Cleveland Indians, '14 Dutch): Clement has taken advantage of his past week at spring training, picking up his first home run for the parent club Indians. Through 7 spring training games, the shortstop is 5/16 with 1 HR, 2 2B, and 2 RBI.
Jack Grabek (Bucknell, '16 & '17 Dutch): The Bison lefty picked up his first win of the season in a dominant performance in a 14-1 win over Niagara. Grabek, the Friday night starter, worked the following stat line: 7.0 IP, 8 K, 3 BB, 1 H, 1 R.