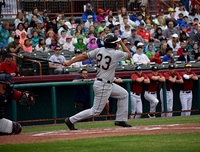 Wednesday, March 13th, 2019
The Albany Dutchmen are excited to announce the renewal of their annual exhibition game against the MiLB Tri-City ValleyCats, a class A affiliate of the Houston Astros, on Wednesday, June 12th at 10:00AM at Joseph L. Bruno Stadium in Troy, NY.
The 2019 matchup will be the 5th straight for the two teams. Last summer, the ValleyCats prevailed 6-1 with the Dutchmen winning the 2017 meeting, 3-2.
The annual Education Day game will serve as a platform for thousands of area youth to enjoy an educational day at the ballpark by learning how S.T.E.M. and other academic subjects integrate with the game of baseball.
"This has been a great annual partnership with our friends at the ValleyCats and we look forward to another exciting game," said Dutchmen Vice President & General Manager, Jason Brinkman. "We enjoy being able to use baseball as an educational tool and the ValleyCats do a great job putting on this event every year."
Game tickets go on sale March 28th at 10:00AM through the ValleyCats box office.
The Dutchmen will begin the 2019 PGCBL season at home on Saturday, June 1st at 5:00PM at Connors Park at Siena College. Season and individual game tickets for the 2019 season are on sale now at dutchmenbaseball.com.