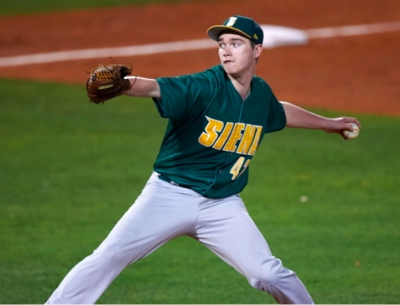 Monday, April 22nd, 2019
Greg Marino (Stony Brook, '18 Dutch)
Marino got his third win of the season this week against UAlbany. The redshirt junior tossed 6.1 strong innings and struck out 9 while only giving up 2 ER. The righty has pitched 52 innings and has 53 SO on the season.
Mitchell Henshaw (St. John's, '19 Dutch)
The junior catcher has been a force for the Red Storm offensively this season. Henshaw had 3 hits and scored 2 runs to help St. John's win the series against Villanova 2-1. He also added a HR that gave St. John's the lead in game 3 to help secure the win.
Tommy Miller (Siena, '17 Dutch)
The Saints' ace pitched for an 81 year program record and his 24th career win to take the first game of the series against the Bobcats. Earlier in the season, Miller broke the program record for strikeouts and innings pitched and now is in sole possession of Siena's all-time wins. Miller pitched a complete game against Quinnipiac and finished with 1 ER and 8 SO. In this game, Miller's head coach, Toni Rossi also recorded his 900th career win.
Connor McCaffery (Iowa, '19 Dutch)
Despite limited at bats due to the Hawkeye basketball team's NCAA Tournament run, the incoming infielder is starting to hit full stride and had a strong weekend against Nebraska. McCaffery had 4 hits, 2 RBI, and a homerun against the Cornhuskers and brought his BA up to .263. Iowa won the series 2-1.
Tommy Pellis (Seton Hill, '19 Dutch)
Pellis tallied 3 hits in 6 AB against the California Vulcans this weekend. With a team high BA of .392, 51 hits, and 39 RBI, the junior has been doing big things offensively for the Griffins this season.