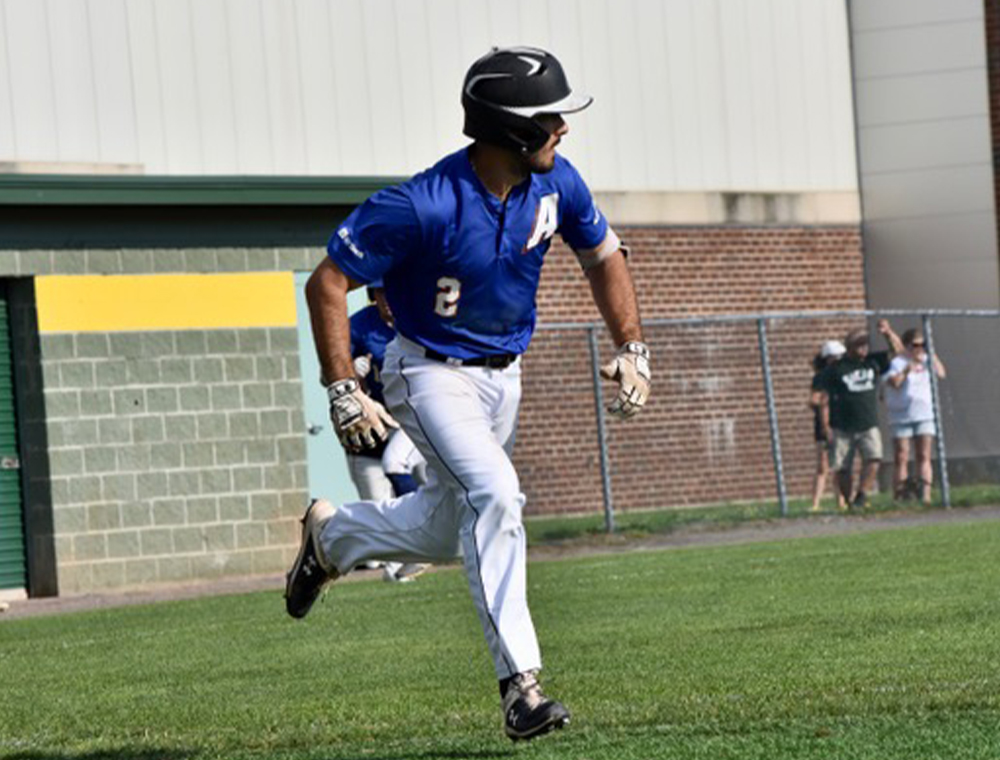 LOUDONVILLE, N.Y. – The Albany Dutchmen (28-16-1) fell in game two of the PGCBL East Division Finals to the Amsterdam Mohawks (33-13) by a score of 10-4. The Mohawks move on to the PGCBL Championship Series to play the Adirondack Trail Blazers.
Albany took an early lead in the first inning. Tommy Pellis (Seton Hill) picked up his second and third RBIs of the postseason with a single into center field. His base hit plated Chris Seng (Louisville) and Ryan McGee (Siena) as the Dutchmen led 2-0 after one inning of play.
Amsterdam grabbed the lead in the fourth inning. DJ Poteet (Wake Forest) gave the Mohawks their first runs of the day with a three-run home run that barely cleared the 360-foot mark in left-center field. Paul Franzoni (NJIT) followed suit with an RBI single to increase Amsterdam's lead to 4-2. The Mohawks recorded five hits in the frame against Dutchmen starter Blake Bales (Virginia).
"Blake was getting a little tired," said Dutchmen Head Coach Nick Davey. "The home run was big for them confidence-wise."
Despite allowing two runs on seven hits, the Dutchmen offense failed to string any momentum against Mohawks starter Mitch Hartigan (Florida Atlantic). The right-hander struck out four batters in six innings of work and didn't allow any runs after the first inning.
"He settled in and got ahead of us a little bit," said Davey. "We let him settle in too much."
The Mohawks increased their lead in the seventh. After an error, single and walk loaded the bases, Amsterdam gained another run on a walk to Landon Jordan (Mississippi State). A wild pitch brought home Poteet and a sacrifice fly from Franzoni increased Amsterdam's lead to 7-2 after the top of the seventh.
The Dutchmen started their comeback bid in the bottom of the seventh. Pellis came through in a clutch situation again as he hit his second two-run single of the day to close the Amsterdam advantage to 7-4. However, the Mohawks took a four-run lead with an RBI single by Richie Barella (Manhattan) as Amsterdam exited the top of the eighth with an 8-4 advantage.
The Mohawks added two more in the ninth on a Franzoni two-run single and David Harrison (North Carolina State) held the Dutchmen scoreless in 2.1 innings of relief to close out the Amsterdam victory. The Mohawks advance to their seventh PGCBL Championship series looking for their fifth PGCBL title.
"This team bought in," said Davey. "They did everything we asked and they got better. I can't thank them enough for what they did."
Despite reaching the postseason seventh straight seasons, the Dutchmen still look for their first berth into the PGCBL Championship Series. The 2019 Dutchmen end the season with a 28-16-1 regular season record and look to rebound for the 2020 PGCBL season.