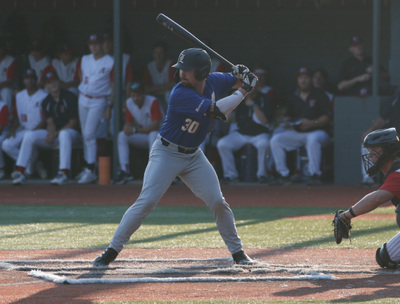 (AMSTERDAM)-- The Albany Dutchmen picked up their first win of the summer against the first place Amsterdam Mohawks Monday night, kicking off the last week of the regular season with a bang, a 3-1 victory.
The Albany bats got things off to a quick start, as Caden Shapiro (Princeton) singled and Nick Schwartz (Southern New Hampshire) walked with one-out. Austin Bode (Louisville) would later single to extend his hit streak to seven games and bring in Shapiro for his third RBI in the last four, and the Dutchmen's first run of the night.
Three innings later the Dutchmen lead would be doubled with one swing of the bat, as Matt Bergevin (Fairfield), who was just named the Dutchmen's Generation Land Management Player of the Week earlier in the day, would blast his team-leading fourth home run of the summer over the left-center field wall to make it 2-0.
Albany would tack on another run in the sixth, as Bode and the Dutchmen would take advantage of a pair of Amsterdam errors to extend the lead to three.
While the Dutchmen bats were getting it done offensively, Michael DiMartino (UAlbany) was dealing on the mound. The New Hyde Park native turned in one of the best Dutchmen starts of the summer, allowing just one bloop single in his six innings of work. The single would be the lone baserunner Amsterdam got against the Great Dane righty, as DiMartino faced just one more than the minimum to go with his three strikeouts, en route to his first win of the summer.
Amsterdam would not go down without a fight however, threatening to come back in each of the final three innings. In the seventh, they would put runners on first and second with just one out, but Danny Rogers (Central Connecticut State) made a pair of nice plays at the hot corner to retire the next two batters and keep the hosts scoreless.
The Mohawks would come back and load the bases with one out in the eighth, but Connor O'Neill (Manhattan) would do a good job of limiting the damage, trading a run for a groundout to Bergevin at first and then striking out Mark Black (Gardner Webb) to preserve the lead. Amsterdam would put the tying run on base with two outs in the ninth, but O'Neill would buckle down and strike out Briggs Rutter (Middle Tennessee State) to close out the victory.
These two teams are set to meet again in the Dutchmen home finale on Wednesday at Dutchmen Field, but not before Albany heads north to East Field for a faceoff with the Glens Falls Dragons at 7:00 on Tuesday.