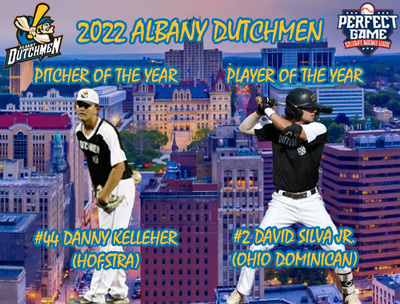 (ALBANY, NY)-- David Silva Jr. (Ohio Dominican) and Danny Kelleher (Hofstra) have been named the 2022 Albany Dutchmen Player and Pitcher of the Year.
Silva Jr. was a staple of the Dutchmen lineup all summer long as the second baseman was one of three players to appear in at least 40 of the team's 46 games. The Ohio native set the PGCBL record with 43 stolen bases this summer, led the team with eight doubles, and ranked second on the squad in average (.289), hits (37), and on-base percentage (.401).
There were high expectations of David Silva Jr. heading into this summer from Coach Davey, as the Dutchmen have had success in the past with Ohio Dominican players Justin Childers and Colin Kaucher, the latter who currently serves as an assistant coach at his alma mater.
"He met the expectations, Kaucher said they love him at ODU and he would be our type of guy and he was. We put him in the leadoff spot because he's aggressive on the bases which is my style of baseball, he plays fast paced and challenges guys to throw him out. David was the engine for us, he put himself in scoring position, I'm proud of him, he'll be a great player and hope he enjoyed his time in Albany and got something out of it," Coach Davey said.
The 2021 G-MAC Freshman of the Year played a key part in Albany's 7-1 start to the season, batting .375 (9-24) with seven walks which brought the OBP upwards of .500, to go with 11 stolen bases that kickstarted the record season.
"I felt hot after the first couple games, the moral of the story is you can't steal if you don't get on base. I was just trying to get on base in any way I can then let me speed do the talking," Silva Jr. said.
Silva Jr.'s average remained above .300, while his OBP stayed north of .400 for all but the final week of the summer. The productivity was through the roof all summer long, reaching base safely in 34 of 41 games. The Otsego High School product racked up nine multi-hit games including a four-hit, two-double night on July 12th.
"Albany was great to me, it was a great summer. I love all the guys and all the coaches, they do a really good job here. There's so much to do in Albany and it was such a great experience. I want to thank Coach Davey in his last year for giving me the green light and making this stolen base record possible," Silva Jr. said.
Silva's impact on the game extended to the basepaths nearly every night, with stolen bases in 22 games. There were 14 multi-base nights and two separate games with four stolen bases for Silva on the summer. One of those four-bag nights came in his last game of the season on July 28th, which featured his record tying 40th, record breaker 41st, and record setters 42nd and 43rd.
"It felt amazing, I was feeling the pressure for a little while. People kept asking when would I beat it but I tried not to worry about it," Silva Jr. said.
Danny Kelleher (Hofstra) was outstanding on the mound for Albany this summer, posting a 1.62 ERA across 33.1 innings, an ERA which ranked fourth in the PGCBL and led Albany. The righty posted a team high three wins in his 3-1 record, while also ending the summer with a team best .179 opponent batting average and .9 WHIP.
"I was looking forward to getting innings and getting experience and it went better than I expected. I got a bunch of innings and a ton of experience, and I think I really improved this summer," Kelleher said of his summer expectations.
Kelleher earned his innings for Coach Davey's squad, as each of his first two summer outings were out of the bullpen, and each featured multiple innings of shutout ball. Kelleher's second bullpen outing came on June 24th, as he went 4 innings, 1 hit, 0 runs and 7 strikeouts, which leapfrogged him into the starting rotation.
"Danny earned everything he got, we had a conversation about where his role would be. He got a spot start and forced me to not take the ball away from him and he did just that. He's always in the zone, competes with all of his pitches in the zone which makes him great. He'll have a great career at Hofstra, it was fun coaching him, he attacked guys and really pitched to his strength," Coach Davey said.
That first start for Kelleher was June 30th, a day in which he went 4 innings, 3 hits, 1 run and 2 strikeouts in a game that Albany led 3-1 upon his exit, but ultimately resulted in Kelleher's only no decision start of the summer.
The lone home start of the summer for the Rockville Centre native came on July 6th as Kelleher went 4 innings, 2 hits, 1 run and 5 strikeouts en route to his first win of the summer.
Back-to-back road wins followed for Kelleher, as he totaled 13 innings, 9 hits, 3 earned runs, and 7 strikeouts between a six inning outing on July 15th, and a seven inning outing on July 22nd.
Kelleher's final outing of the summer came in a must-win for Albany to clinch a playoff spot on July 28th in a game that Kelleher did all he could to keep Albany in it, going 6.1 innings, 5 hits, 6 strikeouts and 1 earned run.
"I think the last game was my best game performance-wise, I felt good and I had all three pitches working," Kelleher said.
Now heading into his junior year at Hofstra, the Dutchmen ace took plenty away from his summer in Albany.
"Trusting my stuff, not being too scared to throw pitches, aiming for more of the plate rather than trying to aim for corners, and I developed a lot of confidence this summer," Kelleher said.
Congratulations to David Silva Jr. (Ohio Dominican) and Danny Kelleher (Hofstra) on being named 2022 Albany Dutchmen Player and Pitcher of the Year.