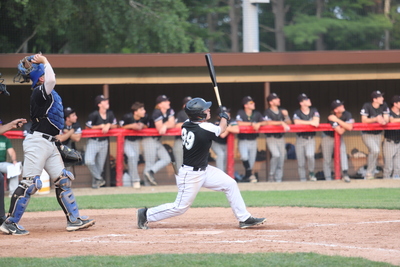 July 6, 2023
(ALBANY, NY)-- Another doubleheader, another split for the Albany Dutchmen.
The fourth fully complete doubleheader of the summer for the Dutchmen resulted with one win and one loss for the third time, as the Dutchmen still chase their first sweep since their home opener, when they split with the Watertown Rapids on June 3rd.
After a 6-1 victory over the Glens Falls Dragons in the opening half of the night's contests, the Dutchmen bats seemingly shut down in a 2-0 loss where the Dutchmen succumbed just two hits.
In the opener, Vince Venditti (Saint Rose) got things started for the Dutchmen in the bottom of the first, as after he reached first on a fielder's choice, he would be credited with three stolen bases. The Burnt Hills product would swipe second and third, and on a pickoff attempt to first with him on the opposite corner, he would scamper home to give the Dutchmen the early lead.
While the Dutchmen mustered just one hit across innings two through four, Dutchmen pitching limited Dragons bats to just the same. Dutchmen starter Ryan Bates (Binghamton) would go three shutout innings, allowing just one hit and one walk to go with his three strikeouts. Danny Iglesias (St. Thomas University) would follow with two clean innings of his own, also with three strikeouts, en route to picking up the win.
Albany's bats would open things up in the fifth, as four singles and a hit by pitch to begin the inning would result in three runs. Nick Plue (Manhattan) and Mario Cubello (St. John Fisher) would lead off with singles before Anthony Paskell (Rider) would take a hit by pitch to load the bases. Venditti and reigning Dutchmen Player of the Week Tyler Kipp (Fairfield) would follow with singles of their own, clearing the bases ahead of them, to make it a 4-0 Dutchmen lead.
Glens Falls would score an unearned run in the top of the sixth to make it 4-1, but the Dutchmen would take advantage of a Dragons error of their own. Anderson Moreno (SNHU) reached on an error by the third baseman with two outs, and Plue would follow with his first home run of the summer over the left-center field fence to make it 6-1.
Jake Memoli (Fairfield) and Matt Tiberia (Saint Rose) would combine to throw the final two innings. Memoli would allow one hit and one unearned one to go with his one strikeout in his inning, while the only baserunner that would reach off Tiberia would be via hit by pitch.
Plue would finish game one 3-for-3 with his home run, two runs batted in, and two runs. Kipp would finish 1-for-3 with two runs batted in off his fifth inning single, and Venditti would register a 1-for-3 with a run, an RBI, and his three stolen bases.
Game Two would be a pitcher's duel as Dutchmen starter Derek Duval (Post) and Dragons opener Billy Canale (Le Moyne) would face off.
Duval would shut the Dragons offense down through his five innings of work, allowing just one hit and two walks to go with seven strikeouts. The Albany offense would generate a little bit more offense off of Canale, as they would put runners on second and third in both the second and third innings, but couldn't cash in off the Niskayuna product.
Glens Falls would score a run each in the sixth and seventh innings, however the only response the Dutchmen put up up were back-to-back one-out walks in the sixth that were erased by back-to-back strikeouts.
The two teams will face off Friday in a de-facto series rubber match in Glens Falls. First pitch from East Field is set for 7:00 PM. The Dutchmen return home on Saturday for another doubleheader, this time with the Saugerties Stallions, with the first pitch of the evening slated for 5:00 PM. The games, as always at home, will be broadcasted live on the Albany Dutchmen Facebook.