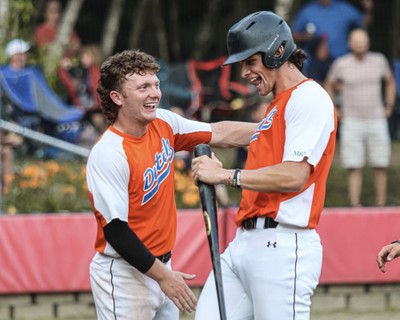 July 12, 2023
(ALBANY, NY)-- The Albany Dutchmen (11-18) defeated the Saugerties Stallions (15-12) in a back-and-forth affair on Wednesday, 7-6. Jackson Smith (Kankakee CC) picked up the win for the Dutchmen, while Austin Trumpour(SNHU) shut the door on the Stallions in the ninth inning.
After fesitivies throughout the evening that recognized the 10U Cal Ripken Regional Tournament participants kicked off pregame with every team taking the field with a Dutchmen starter, the Stallions started the scoring getting one run in the first inning after loading the bases. They then loaded the bases again and scored twice to take a 3-0 lead after the top half of the second inning.
JT Vance (Mississippi College) got the Dutchmen on the board with a two-run double to the gap in the bottom of the second inning. Mario Cubello (St. John Fisher/Transfer Portal) added on in the second inning with an RBI single to tie the game up 3-3.
In the third inning, Tyler Kipp (Fairfield) and Brody Keneston (Le Moyne) reached with one out. Keneston's hit was a double into the corner to set runners on second and third. Kipp was then able to score on a dropped third strike and the Dutchmen took their first lead of the game, 4-3.
After taking the lead the Dutchmen pitching was able to shut down the Stallions for most of the game. CJ Kuentzel (Iona University) pitched a three-up, three-down fourth inning, followed by Ryan Bates (Binghamton), who pitched a strong three and two thirds innings- including two three-up and three-down innings- and striking out three.
The Stallions did strike in the top of the eighth inning with a two-out rally. The Stallions scored three runs on four hits sending nine batters to the plate. All of this started with a single by Corey Dowdell (Georgia Southern) with two outs.
Trailing 6-4 in the bottom of the eighth the Dutchmen showed their fight. Anderson Moreno (SNHU) got things started with a walk. Moreno would then score on a single by Vance paired with a throwing error by the second baseman trying to get Moreno at third. Vance then scored the game tying run on Steven Nitch's (Barry) double to left field. Nitch would score when Anthony Paskell (Rider) reached on an error.
Austin Trumpour entered to pitch the ninth, and after walking the first two batters, he got two fly outs and a ground out to pick up the save and wrap up the Dutchmen victory.
The Dutchmen will have Thursday and Friday off before playing again on Saturday in a doubleheader against the Oneonta Outlaws, in Oneonta. Their next home game will be next Thursday, in a doubleheader against the Amsterdam Mohawks starting at 5:00 PM broadcasted on Facebook Live.