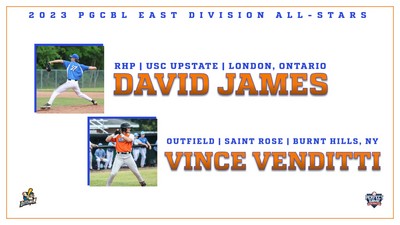 ALBANY, NY)-- The Albany Dutchmen are proud to announce that Vince Venditti (Saint Rose) and David James (USC Upstate) have been named to the 2023 PGCBL East Division Midseason All-Star Team.
Venditti, who has paced the Dutchmen offense all summer, was one of six outfielders named to the East All-Star squad. The Burnt Hills product has been a force at the plate and on the basepaths since day one, reaching base safely in 23 of the 26 games he has registered a plate appearance in while swiping a league high 24 stolen bases. In addition to his league leading stolen base tally, Venditti leads the Dutchmen offense in a number of categories, including average (among qualifiers), home runs, hits, runs, and walks.
"Being nominated as an All-Star in a league with a lot of talented guys from all over the place and a lot of big schools is very cool," Venditti commended. "I would like to congratulate David on his selection as well. I just try to stay humble, do my thing, and do whatever I can to help the team win."
Venditti's main spot for the Dutchmen defensively this year has been in center field, where he sports a perfect 1.000 fielding percentage in 138 innings. He has also registered a team-high three assists from the outfield, proving he is as capable as taking away runs as he is creating them on the other side of the ball. Venditti has also played multiple games at shortstop and made one appearance on the mound for the Dutchmen in 2023, showing off his versatility at three of the most important positions defensively.
"I just try to go out, put my work in, and lead by example," Vince said about his everyday approach. "I just want to go out there, have fun, get closer with my teammates, and look to get a win."
On the pitching side, James was one of ten pitchers in the Division to get the All-Star nod. The right-hander from London, Ontario set the tone for the Dutchmen pitching staff in the first half of the summer, before his Dutchmen season came to a premature close at the end of June.
"It's an honor to be selected out of a huge selection of guys that are very good baseball players," James said. "I want to congratulate Vince (Venditti) on his selection, and I feel honored to be named a PGCBL All-Star."
James turned in four stellar starts for the Dutchmen, picking up a 3-0 record with a 0.83 ERA. Coincidentally, his best start was the one where he didn't get a decision, when he dominated seven shutout innings at Saugerties on June 20th, allowing just three hits to go with no walks and five strikeouts. Limiting walks and refining his command was the main goal for the Canadian this summer, and he did just that- walking just six across 21.2 innings.
"Commanding the strike zone, brining my walks down was my biggest goal this summer, and developing my sinker were my three biggest goals this summer, and I feel like I accomplished all of those," James mentioned. "Having only six walks in almost 22 innings definitely helped me in limiting my runs against, and I feel like locating my sinker well was definitiely a contributor to my success."
Across James's three wins, he allowed just two runs in his 14.2 innings pitched. Opposing batters were only able to pick up 10 hits in those three starts, and throughout the summer, hitters struggled to a .217 batting average against James, who finished his summer with a 0.88 WHIP.
"I came into the summer looking to start and show my coaches (at USC-Upstate) that I could develop into the starter for our program next spring," he said. "I'm looking forward to building off of this summer into the fall, and then build off the fall into the spring."
The Dutchmen would like to congratulate Vince and David on their successes through the summer and applaud them on this incredible accomplishment.