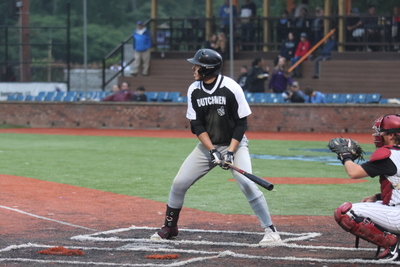 The Albany Dutchmen (15-17) won their fourth straight game Sunday night, defeating the Mohawk Valley Diamond Dawgs (19-13) by a score of 6-4, continuing to improve their playoff chances. In a game of firsts, Derek Duval (Post/Transfer Portal) got his first win of the season and Devin Campbell (SUNY Oswego) picked up his first save.
The Dutchmen bats got things started right away. In the top of the first inning, Vince Venditti (St. Rose) would lay down a bunt with Anthony Paskell (Rider) on second, and a bad throw by DiamondDawgs pitcher Colton Trisch (George Washington) allowed Paskell to score. The very next batter, Brody Keneston (Le Moyne), hit his first home run of the season, making the score 3-0. The Dutchmen extended their lead in the third with a two-run double by Korson Hastings (Trinity University), scoring JT Vance (Mississippi College) and Nick Plue (SUNY Cortland).
Mohawk Valley would make it a game in the later innings, as the DiamondDawgs scored all four of their runs between the sixth and eighth innings. In the sixth, Jaden Ross (University of South Florida) singled to score Sebastian Mueller (Quinnipiac), while Justin Hackett (Bryant) had a two-run single in the seventh and Mitch Balint (Carson-Newman University) scored on a passed ball in the eighth.
The Dutchmen added an insurance run in the top of the eighth inning, when Mario Cubello(Transfer/St. John Fisher) scored on an RBI single by Paskell.
Albany got a solid first three innings from starter Jacob Maurer (Lafayette), who registered his first scoreless outing of the season. Maurer was replaced by Duval, who pitched two innings, only allowing one hit and striking out three. Andrew Dongelewic (St. Rose), Jake Memoli (Fairfield), and Greg Mays (Cortland) would bridge the gap to Campbell, and the Guilderland native would strand a leadoff walk with two groundouts and a strikeout.
The Dutchmen's next game is on Tuesday when they travel to Watertown to take on the Rapids. The next home game for the Dutchmen will be Thursday for a doubleheader against the Amsterdam Mohawks at Dutchmen Field at Keenholts Park starting at 5:00 PM. The doubleheader will be broadcasted on live on the Albany Dutchmen Facebook page.