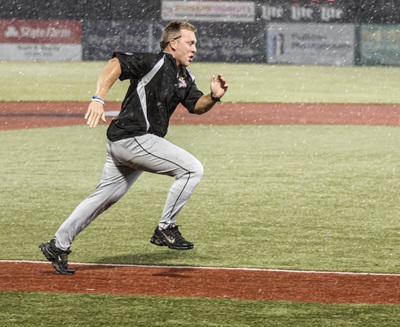 July 24, 2023
(AMSTERDAM, NY)-- The Albany Dutchmen (19-19) traveled to Amsterdam on Monday for a battle against the Mohawks (34-4). The teams played three full innings before a storm broke out in the top of the fourth leading to the game's delay, and ultimately, cancellation.
Before the game was canceled however, the Dutchmen were able to score a run. In the top of the first inning, Vince Venditti (The College of Saint Rose) led off with a single. Venditti would steal second and advance to third on Brody Keneston's (Le Moyne College) single, allowing him to later score on a wild pitch.
The Mohawks scored two of their own runs in the bottom of the second inning to take a 2-1 lead before the Dutchmen would threaten in the third and fourth innings.
With one out in the third, Venditti walked and Will Binder (UAlbany) singled to push Venditti to third, before Binder stole second behind him. A strikeout made it two outs, and Austin Francis (NJIT) was robbed of a run-scoring hit by a leaping grab by Zach Eldred (Brockport) at the wall in right. Joe Karpierz (Xavier) singled in the fourth inning before stealing second base, but the game went into it's delay with Ryan Meyer (Fordham) at the plate and would not resume.
The Dutchmen return to Dutchmen Field at Keenholts Park for their home finale on Tuesday to face the Glens Falls Dragons with first pitch at 6:35 PM. The game will be broadcasted live on the Albany Dutchmen Facebook page.